Vettel fastest on Friday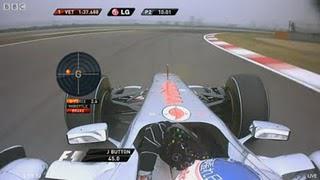 Jenson Button has been right at the tail
of Vettel and Hamilton so far
Red Bull and McLaren were the quickest two teams in Shanghai on Friday. Sebastian Vettel set the fastest time of the day with a 1:37.668. McLaren's Lewis Hamilton was 0.166 seconds adrift of the German with Jenson Button another 0.081 seconds behind his teammate.
While the top teams most likely did their fastest laps with a heavier fuel load, Mercedes might already have shown their hand, with Nico Rosberg only 0.247 seconds behind Vettel and Michael Schumacher another 0.162 seconds behind the fellow German.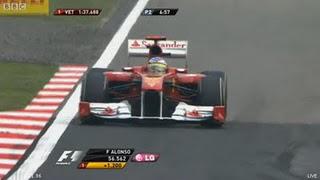 Can Ferrari pull something out of the bag for qualifying?
Ferrari have been unable so far to challenge the two top teams, the main problem being their single lap speed. It is unlikely, though, that the Maranello based team will have sorted out the issue for tomorrow's qualifying.
Force India had a problem with the fuel pressure on Paul di Resta's car. The team was unable to sort the issue out with the Scot losing the whole practice session.
Friday Practice 2 - final results
  Pos. Driver Nat. Team Time Gap Laps
  1 Sebastian Vettel German Red Bull 1:37.688   34
  2 Lewis Hamilton British McLaren 1:37.854 +0.166 22
  3 Jenson Button British McLaren 1:37.935 +0.247 31
  4 Nico Rosberg German Mercedes 1:37.943 +0.255 34
  5 Michael Schumacher German Mercedes 1:38.105 +0.417 29
  6 Felipe Massa Brazilian Ferrari 1:38.507 +0.819 36
  7 Adrian Sutil German Force India 1:38.735 +1.047 35
  8 Nick Heidfeld German Lotus Renault 1:38.805 +1.117 26
  9 Vitaly Petrov Russian Lotus Renault 1:38.859 +1.171 31
  10 Mark Webber Australian Red Bull 1:39.327 +1.639 33
  11 Kamui Kobayashi Japanese Sauber 1:39.538 +1.850 33
  12 Pastor Maldonado Venezuelan Williams 1:39.667 +1.979 37
  13 Sebastien Buemi Swiss Toro Rosso 1:39.771 +2.083 18
  14 Fernando Alonso Spanish Ferrari 1:39.779 +2.091 17
  15 Jaime Alguersuari Spanish Toro Rosso 1:39.828 +2.140 25
  16 Rubens Barrichello Brazilian Williams 1:39.925 +2.237 32
  17 Sergio Perez Mexican Sauber 1:39.953 +2.265 30
  18 Heikki Kovalainen Finnish Team Lotus 1:40.476 +2.788 30
  19 Jarno Trulli Indian Team Lotus 1:41.482 +3.794 32
  20 Narain Karthikeyan Indian Hispania 1:42.902 +5.214 25
  21 Vitantonio Liuzzi Italian Hispania 1:43.850 +6.162 3
  22 Jerome D'Ambrosio Belgian Virgin 1:44.008 +6.320 25
  23 Timo Glock German Virgin 1:44.747 +7.059 12
  24 Paul di Resta Scottish Force India     0