Vettel fastest on Friday morning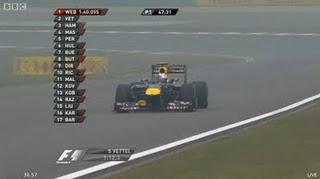 Vettel dominating the practice session on Friday morning
The Friday morning practice session saw a dominating Red Bull team with world champion Sebastian Vettel 0.615 seconds in front of teammate Mark Webber. Lewis Hamilton and Jenson Button were already over two seconds off the pace.
One hour into the session Nick Heidfeld lost his car on a kerb, crashed into a barrier and damaged the nose of his car. He lost half an hour of the session, but with only five completed laps he still managed to set the fifth fastest time overall.
Ferrari did not shine in the first practice session with Felipe Massa 2.307 and Fernando Alonso 2.695 seconds behind Vettel. Even though Ferrari are known to be sandbagging on Friday, it seems rather unlikely that the Italian team will have recovered from their dismal start into the season already.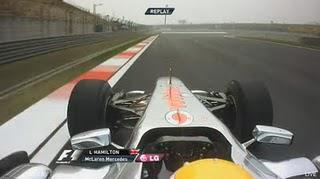 McLaren closest competitors of Red Bull on Friday morning
Also Mercedes with Nico  Rosberg (+2.622) and Michael Schumacher (+3.562) did not impress on Friday morning, continuing their poor start into the 2011 season.
Remember not to read to much into the practice results. The lap times can hardly be related to the real performance of the cars, since teams do not reveal details like the fuel load they are running or whether they are using KERS.

Friday Practice 1 - final results

  Pos. Driver Nat. Team Time Gap Laps
  1 Sebastian Vettel German Red Bull 1:38.739   23
  2 Mark Webber Australian Red Bull 1:39.354 +0.615 27
  3 Lewis Hamilton British McLaren 1:40.845 +2.106 21
  4 Jenson Button British McLaren 1:40.940 +2.201 22
  5 Nick Heidfeld German Lotus Renault 1:40.987 +2.248 5
  6 Felipe Massa Brazilian Ferrari 1:41.046 +2.307 25
  7 Sergio Perez Mexican Sauber 1:41.189 +2.450 20
  8 Pastor Maldonado Venezuelan Williams 1:41.222 +2.483 20
  9 Vitaly Petrov Russian Lotus Renault 1:41.231 +2.492 16
  10 Sebastien Buemi Swiss Toro Rosso 1:41.328 +2.589 21
  11 Nico Rosberg German Mercedes 1:41.361 +2.622 23
  12 Fernando Alonso Spanish Ferrari 1:41.434 +2.695 15
  13 Nico H체lkenberg German Force India 1:41.494 +2.755 20
  14 Heikki Kovalainen Finnish Team Lotus 1:41.579 +2.840 13
  15 Paul di Resta Scottish Force India 1:41.610 +2.871 18
  16 Daniel Ricciardo Austrialian Toro Rosso 1:41.752 +3.013 20
  17 Rubens Barrichello Brazilian Williams 1:41.939 +3.200 25
  18 Michael Schumacher German Mercedes 1:42.301 +3.562 23
  19 Kamui Kobayashi Japanese Sauber 1:43.792 +5.053 20
  20 Jerome D'Ambrosio Belgian Virgin 1:44.089 +5.350 20
  21 Vitantonio Liuzzi Italian Hispania 1:44.359 +5.620 18
  22 Timo Glock German Virgin 1:44.438 +5.699 11
  23 Luiz Razia Brazilian Team Lotus 1:44.542 +5.803 9
  24 Narain Karthikeyan Indian Hispania 1:45.019 +6.280 23