Shallow bathroom vanities keep you from cramping your style in narrow spaces. Shallow vanities can be necessitated for a variety of reasons. European bathrooms are known to be slim and narrow and older homes often have smaller guest bathrooms like this as well.
When we say narrow, we're referring to the depth of the vanity; that is the distance from the front to back. This can be even more difficult to find than small vanities (measured in width) because it is so uncommon. Here's a list of shallow vanities to make things easier for you. These vanities range from 10-18 inches in depth.
Shallow Bathroom Vanities with 10-18 Inches in Depth
1. Perugia Small Vessel Sink Vanity – 12″ Depth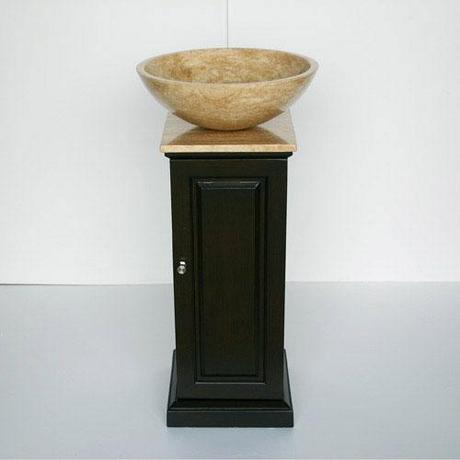 The Perugia Vessel Sink Vanity measures 12″ deep. $775.00 with Travertine vessel sink.
2. Adour Single Bath Vanity – 16″ Depth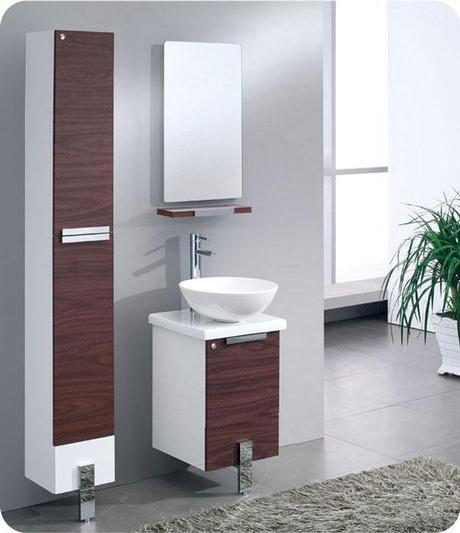 The Adour Dark Walnut Vanity is 16″ deep and only has one leg making it a very unique vanity. Available with optional side cabinet. $599.00.
3. Soft Focus – 17.23″ Depth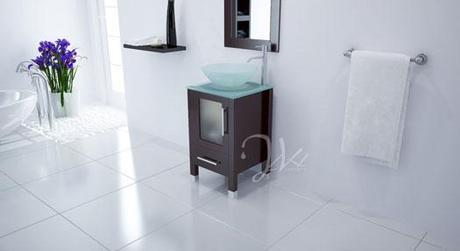 The Soft Focus measures 17.23″ deep. Only $599.00.
4. Jenny Single Bath Vanity – 14″ Depth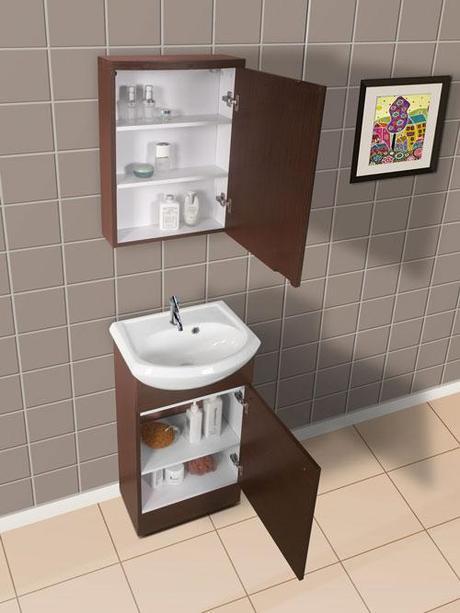 The Jenny Single Bath vanity is one of the narrowest vanities at 14″D yet still holding plenty of storage space for all your personal accessories. $403.00.
5. Gavle Shallow Single Bath Vanity – 10 1/3″ Depth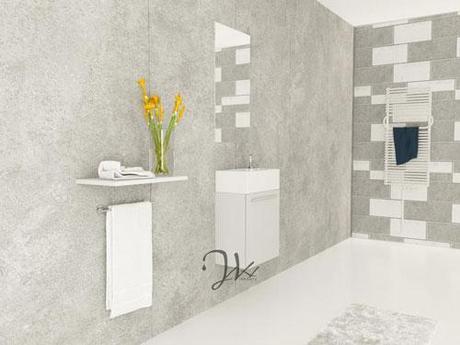 The Gavle Floating Vanity from JWH Imports. Just $299.00.
6. Stanton White Vanity – 16″ Depth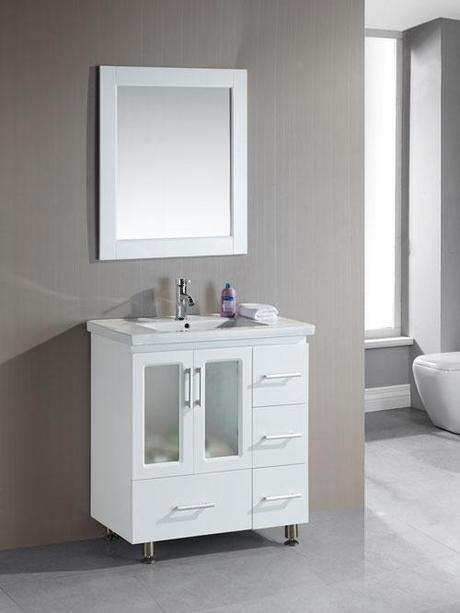 The Stanton White Vanity is a lovely white vanity that will fit in small bathrooms. Solid Oak vanity with just 16″ of depth available for $929.00.
7. Laika Small Wall Mounted Vanity 11 5/8″ Depth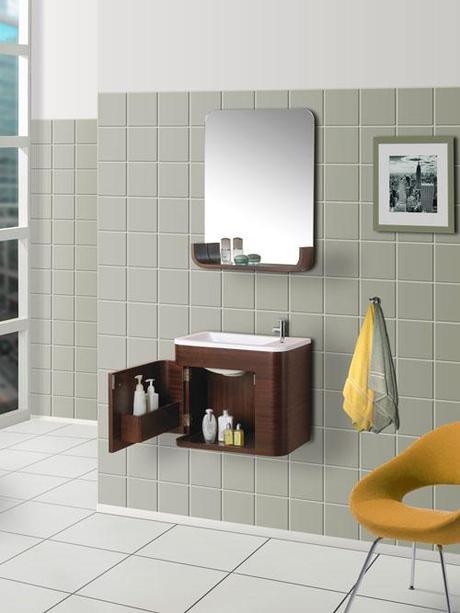 The Laika Wall Mounted Vanity has a very slim frame with depth dimensions measuring only 11 5/8″. $415.00.
8. Silverton Slim Vanity – 18″ Depth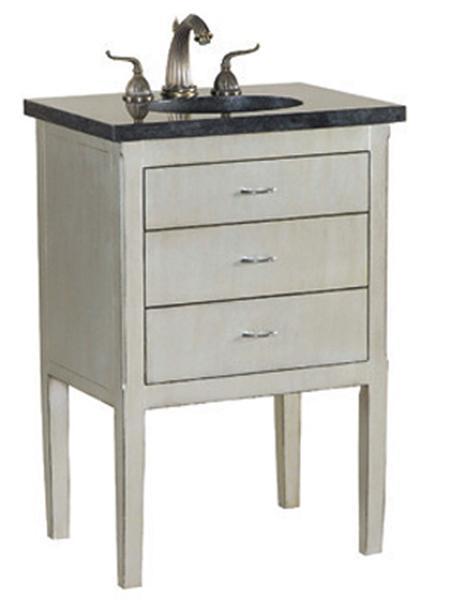 The Silverton Vanity has a slim and aged design with that measures 18″ deep. Made from durable solid wood materials. Available for $1,330.00.
9. Palencia Modern Espresso Vanity – 17.4″ Depth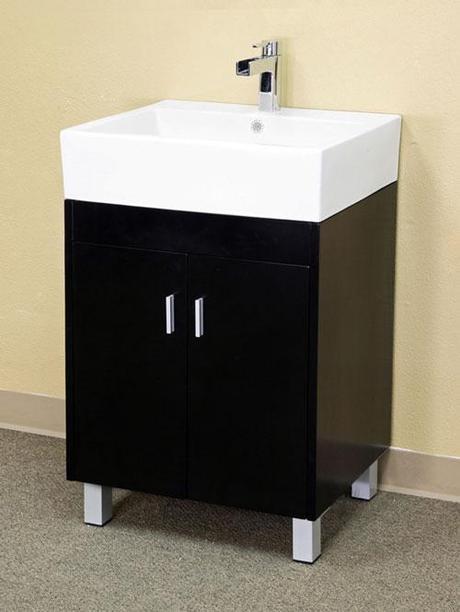 The Palencia Modern Espresso Vanity is fully functional while only occupying 17.4″ of depth from cabinet face to the wall. $705.00 from Tradewinds Imports.com
10. Calantha Rounded Vanity – 18″ Depth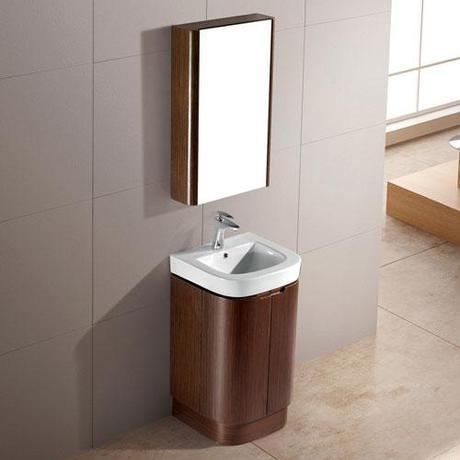 The Calantha Rounded Cabinet has a horizontal grain with countoured doors that wrap around the vanity and swing open to reveal two levels of storage space. 18″ Depth. $699.00.
11. Seville Solid Wood Vanity – 16″ Depth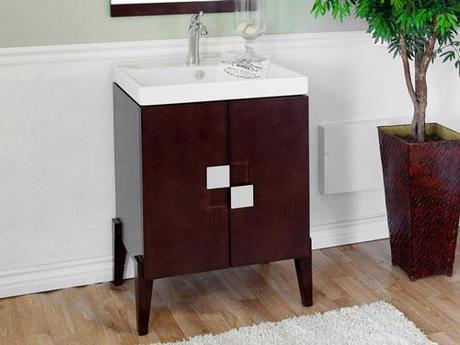 The Seville Freestanding Vanity is 16″ deep and has a black and white design that gives your bathroom a modern flare. $735.00.
12. Stanton 18″D Bathroom Vanity – 18″ Depth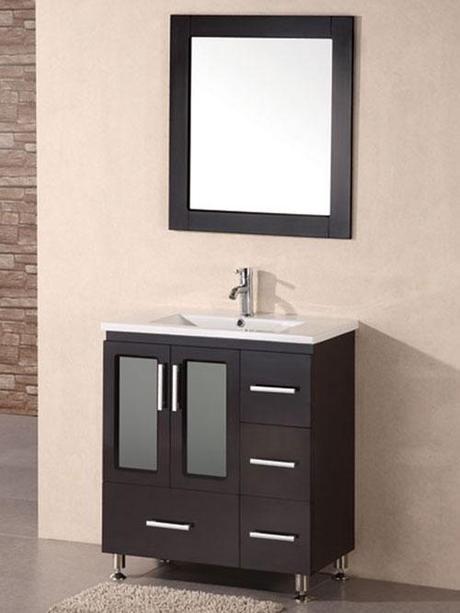 The Stanton Vanity is 18″ deep so it's just slim enough to squeeze in tight spaces between the wall and the shower/tub yet graceful enough to add some style to your outdated bathroom. $9290.00.
13. Pulito Slim Floating Vanity – 8.5″ Depth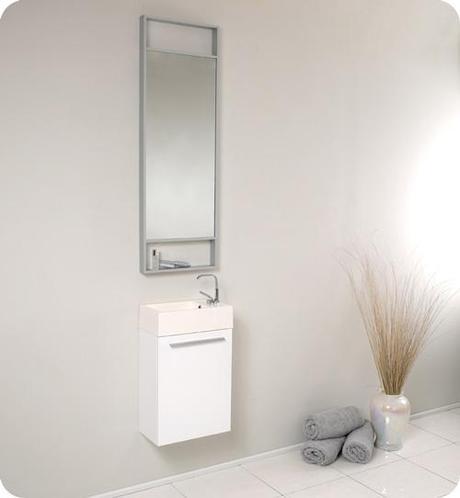 The Pulito Vanity is only 8.5″ deep from front to back making it one of the most petite vanities. $489.00.
14. Aristo Free Standing Vanity – 16.25″ Depth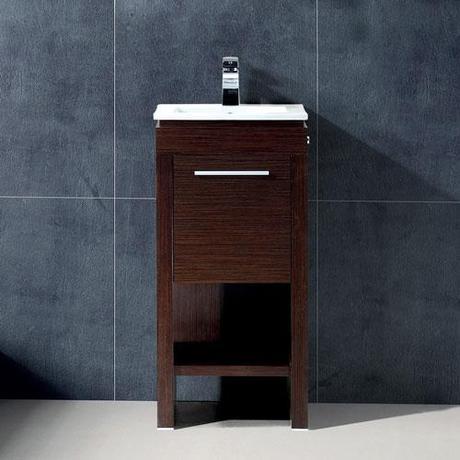 The Aristo Vanity is coated with a special Anti-Scratch Paint to ward off minor nicks and imperfections. 16.25″ Depth. Only $659.00 from Tradewinds Imports.com.
15. Capistrano Glass Vessel Vanity – 17.75″ Depth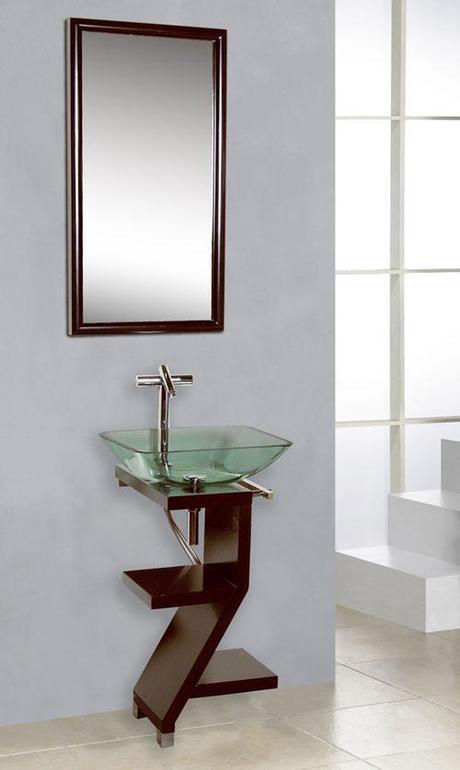 One of the most abstract vanities on the list, the Capistrano has a tempered glass bowl and measures 17.75″D. Only $261.00 during the sale.
16. Gloria Modern Vanity from Virtu USA – 18.1″ Depth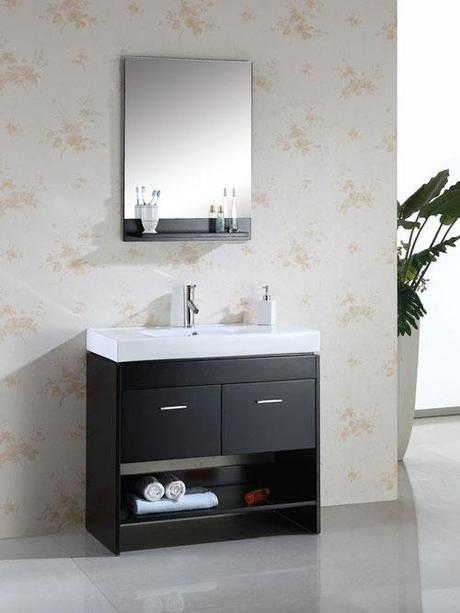 The Gloria Modern Vanity has two swinging panels and open space storage for a soft white linen display. $919.00.
17. Lorne Free Standing Vessel Sink Vanity – 18″ Depth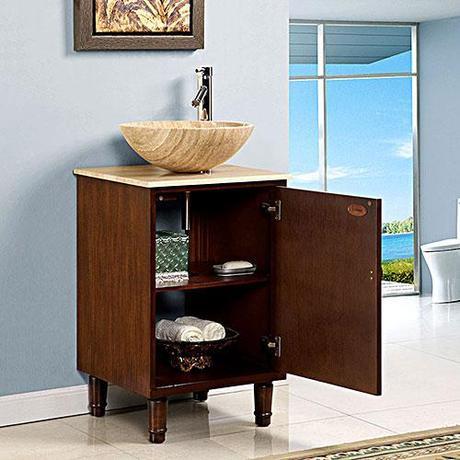 The Lorne Vanity has a beautiful English finish, luxury soft close glides, and oil-rubbed hardware accessories. $1,095.00.
18. Morris Modern Vanity – 17.75″ Depth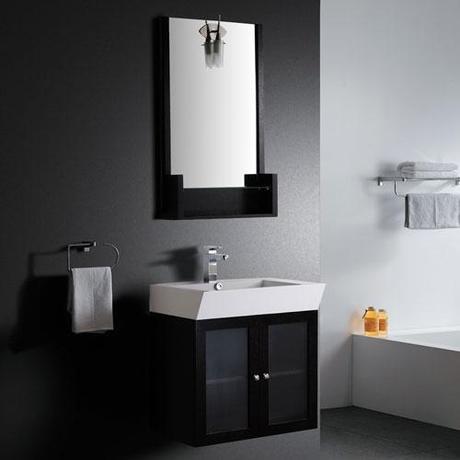 Elegant, bold, and defining. The Morris Floating Vanity is filled with character. Available for $799.00 during current sale only.
19. Marina Wall Mounted Vanity – 10.75″ Depth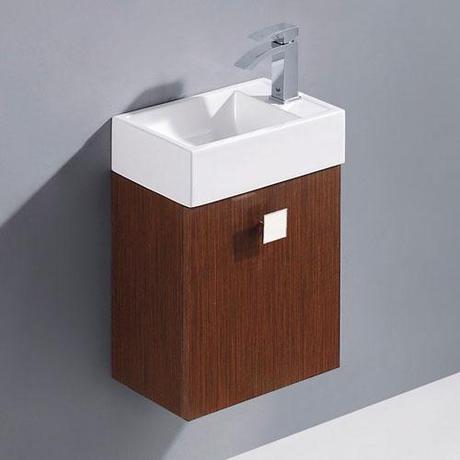 The Marina is small in every way. It measures under 2′ tall and just over 1′ wide. $499.00.
20. Allier Shallow Bath Cabinet – 15.75″ Depth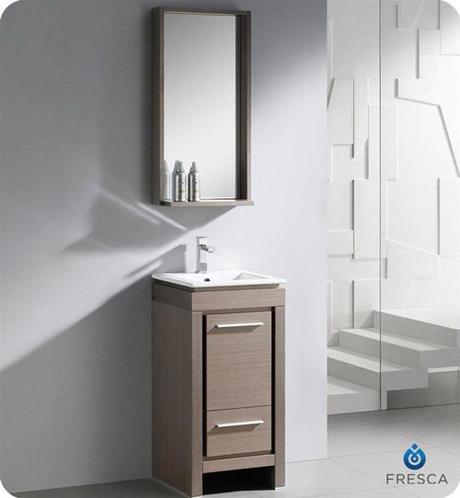 The Allier Vanity comes in a sophisticated Gray Oak Finish, a style that is currently trending in home remodels across the country. $749.00.
21. Milan Integrated Sink – 17.75″ Depth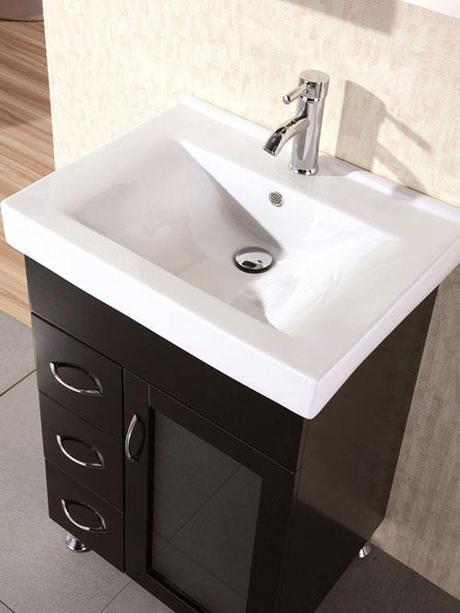 Made with 100% Solid Oak Construction, the Milan vanity can withstand humid bathroom conditions without warping or cracking and it will fit in your small bathroom! $899.00.
Not quite what you're looking for? Tradewinds Imports.com has thousands of small bathroom vanities that are available to be shipped to your home, Free of charge. Click on the link below to browse all small vanities:
http://www.tradewindsimports.com/small-bathroom-vanities.html
More on Small Bathrooms:
20 Small Bathroom Vanities that Are Big on Style
Expert Tips to Make a Small Bathroom Look Bigger
Hot in 2014: European Inspired Bathroom Vanities
About the Author
Cheryl Khan is a designer and writer at Tradewinds Imports.com, an online specialty site dedicated to retailing fine bathroom furnishings. She has extensive knowledge about all the finer details that go into planning the perfect bath renovation project and is an expert on all things bathroom! Send her your bathroom Q's on twitter @SuperInteriors!