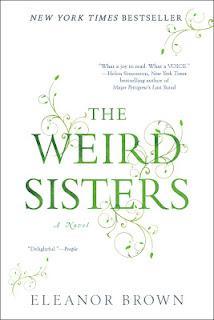 Eleanor Brown's The Weird Sisters, a chick-lit novel that employs the literary devices of Shakespeare, left me with mixed feelings. On one hand, I admire the author's inventiveness—the first-person plural voice and Shakespearean motif. On the other hand, the plot, I felt, was devoid of motion, if not emotion. I had to work hard to keep reading.At the heart of The Weird Sisters is a coming-of-age novel about three sisters who return to live in their family home upon learning of their mother's cancer diagnosis. Each of the sisters is facing her own crisis as well. The reader learns early in the novel that while the sisters love each other, they don't much like each other. Welcome to every family I've ever known.

Brown is most effective when she explores the role sibling order plays in the development of personality. Rose, the eldest, is controlling and controlled. A typical middle child, Bianca (Bean), is seemingly the most troubled. And the baby, Cordy, is the free spirit, the most beloved of the children. By the novel's end, each of the sisters has embraced all of the others' personality traits and, to some extent, traded places.

Women who have sisters will find much with which to empathize in The Weird Sisters. Shakespeare admirers will delight in the many references to the Bard's greatest works. For me, the novel is not surprising enough to elevate it to a must-read. But, as a writer, I did become swept up in Brown's prose. I recommend this novel for any woman at a crossroads in life.Have you read The Weird Sisters? Do you intend to? Join the discussion on BlogHer and let us know what you think: 

http://www.blogher.com/bookclub/now-reading-weird-sisters

.

This is a paid review for BlogHer Book Club, but the opinions expressed are my own.