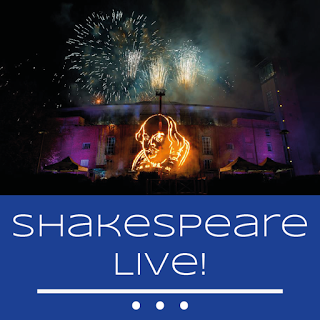 Last Saturday (or maybe next Saturday, the historians aren't too sure about it) 400 years ago one of the greatest writers of all time died - William Shakespeare.
His plays are brilliant, he has changed the English language and he has inspired so many people. If you want to know more about his life visit William Shakespeare: The life and legacy of England's bard by the BBC, it's very well made and interesting.
In course of the celebrations of the anniversary of his death there are many tributes, stories and events. One of these was Shakespeare Live! From The Royal Shakespeare Company.
The show which was broadcasted live from the Royal Shakespeare Theatre in Stratford-upon-Avon was a celebration of the all his plays and his influence on music, dance, opera and theatre today.
David Tennant and Catherine Tate (yes, the Doctor and Donna or - as we're talking about Shakespeare - Beatrice and Benedick) presented the star-studded show.
Joseph Fiennes was narrating Shakespeare's Life and stars like Judy Dench, Ian McKellen, Roger Allam and Benedict Cumberbatch acted on stage and the Royal Ballet performed. It's amazing.
The best part featuring a lot of famous faces is a sketch about Hamlet's and probably Shakespeare's most famous words: "To be or not to be that is the question". It's on at about one and a half hours into the programme in case you only want to watch that.
There also is a lot to learn. I didn't know how many operas, musicals and other plays were inspired by Shakespeare's stories, it's brilliant. Additionally, I didn't know The Apprentice's theme song was from Prokofiev's Romeo and Juliet - that's your useless knowledge for today.
If you haven't seen it yet I highly recommend catching up. In Germany it is available on Arte Concert and in the UK on BBC iPlayer. If you are somewhere else, try asking the search engine of your choice.
And for those who aren't sure whether to watch it or not because they don't know what to expect (if you don't like Spoilers stop reading now and just watch it!), here's a list of all the great things that are happening:

Tonight from West Side Story (musical scene)
All the world's a stage (recitation)
Joseph Fiennes narrates Shakespeare's Life Part I
Under The Greenwood Tree from As You Like It (song)
Romeo and Juliet (theatre scene)
Romeo and Juliet (ballet performance)
Horrible Histories sketch about Shakespeare
Henry V (theatre scene)
This Gives Life To Thee - The Hip Hop Shakespeare Company (musical and dance performance)
As You Like It (theatre scene)
Twelfth Night (theatre scene)
A Midsummer Night's Dream (theatre scene)
Joseph Fiennes narrates Shakespeare's Life Part II
Sigh No More Ladies from Much Ado About Nothing (song)
Much Ado About Nothing (theatre scene)
Béatrice et Bénédict (opera based on Much Ado About Nothing)
Brush Up Your Shakespeare: Kiss Me Kate musical scene
Richard II "Celebration of England" scene (Einspieler)
Such Sweet Thunder by Duke Ellington (Jazz + Ballet)
Joseph Fiennes narrates Shakespeare's life part III
When That I Was A Little Thin Boy from Twelfth Night (song)
Sketch about Hamlet's most famous words (the most star-studded part, starts at 1:27:00)
Hamlet (theatre scene)
Sir Thomas More (theatre scene)
uMabatha: the Zulu Macbeth (theatre scene)
Ninagawa Macbeth (Japanese theatre scene)
When, in Disgrace with Fortune and Men's Eyes (Sonet sung by Rufus Wrainwright)
Macbeth (theatre scene)
King Lear scene (theatre scene)
Antony and Cleopatra (theatre scene)
Joseph Fiennes narrates Shakespeare's life part IV
Come Away Death from Twelfth Night (song)
Henry IV Part I (theatre scene)
Falstaff (scene from Verdi's opera based on Shakespeare's The Merry Wives Of Windsor)
The Tempest scene (theatre scene)
A Midsummer Night's Dream scene / finale