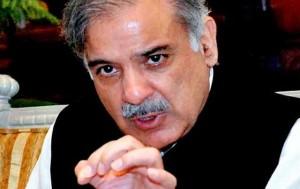 Punjab chief minister Shahbaz Sharif has said that the circumstances of Pakistan have came on the stage where he is seeing the country weakening and breaking. However, he prayed that may the God make his opinion wrong.
While addressing after distributing laptops in the students of Wafaq ul Madaris in Lahore on Wednesday, the chief minister appealed the youth to save the country, saying the current circumstances of the country are extremely perilous and awakening.
Shahbaz Sharif said if the bloodshed in the country not finished, all of us will be perished, adding half of Pakistan was broken thirty years ago and if we not took the measures to save the remaining country, it will be wiped out of the globe.
The chief minister said everyone have to struggle to weed out the sectarian violence. He said the people of every religious sect scarified for establishing Pakistan but today we are slashing each others' throats.
He added that today the nation has become a toy in the hands of its enemies… $ 60 billion loans have been taken so far the installments of which are not easy to pay.
Shahbaz Sharif also inaugurated a Nishat park in Lahore Kent and promised that if people give them the opportunity, they will eradicate the corruption and put the country on track of development.