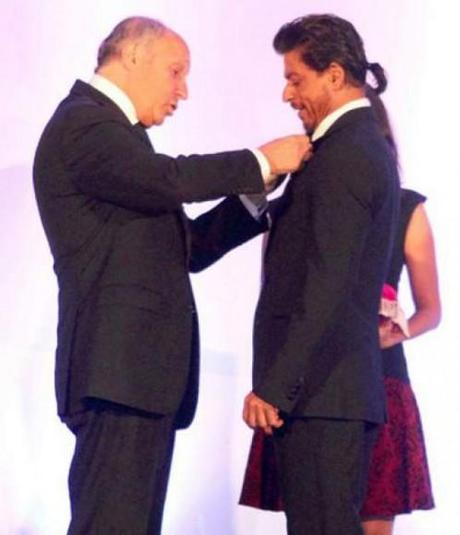 Internationally acclaimed Bollywood actor Shah Rukh Khan was conferred with the top French civilian award "Knight of the Legion of Honor" at a special ceremony held at the iconic Taj Mahal Palace Hotel in Mumbai on Tuesday (02.07.2014).
Visiting French minister of foreign affairs and international development Laurent Fabius pinned the prestigious medal on Khan at a special ceremony for his outstanding contribution to cultural diversity across the world.
"There are different moments in life that make you feel that you are on the right track and this is one such moment. I am truly humbled to receive this honour," said Shah Rukh Khan, thanking French President Francois Hollande and foreign Minister Laurent Fabius for finding him "fitting for this honour"  
"Today is my mother's birthday and if she had been alive she would have been happy that I got this prestigious honor. I accept this award not as an individual, but on behalf of hundreds of filmmakers. It makes me feel proud to be recognised for the field I am passionate about. This award has motivated me to take Indian cinema to the next level of acceptance, love and glory," added the 48 year old Khan.
This is Shah Rukh's second French honor after he was conferred the Knight in the Order of Arts and Letters in the year 2007.
The Legion of Honor was created by Napoleon Bonaparte in the year 1802. It is the highest award given by the French Republic for outstanding service to France, regardless of the nationality of the recipients. Other Indian recipients of this honor include Bollywood living legend Amitabh Bachchan, the late film director Satyajit Ray and the late sitar maestro Ravi Shankar.