Hello friendlings! I've been trying to write this post for a while, but I just can't find the words to tell you how much I love this mascara. It's so good it's replaced my Maybelline 'The Falsies'!
As the title and the picture below suggest, this is the Falsifeye HD mascara by Seventeen which retails for about £6.99 in Boots. The funny thing about this now being my holy grail mascara is that I didn't even particularly want it. I was quite happy with Maybelline and had no desire to find a new macara, but I was on the hunt for a heavy duty under eye concealer which I found at the Seventeen booth, who were doing a buy one get one half price. I had a quick look but I was in a rush so I just grabbed this because I liked the packaging!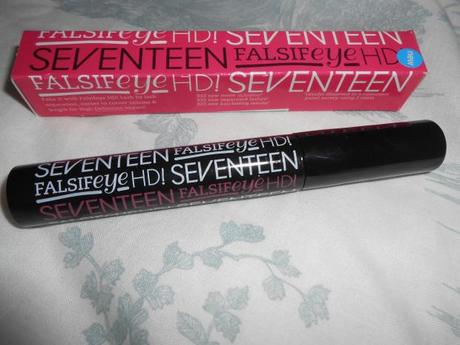 The first few times I used it I put my normal mascara on first, and then a few coats of this… I really didn't like it so I left it in a draw with all my other rejected mascaras. I forgot about it until I saw Wayne Goss' video on a 'wonder mascara' – and it turned out to be this! So I gave it another go but I didn't layer it with any other mascara, I just did a few coats of this by itself and it's absolutely amazing. Honestly, I'd put it up there with Benefits 'They're Real'. It's
that
good.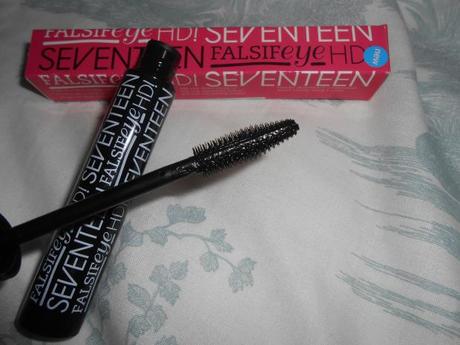 And I love the brush! It's quite hard to photograph but it's flat on two opposite sides to layer the product on and curl the lashes up, and then as you comb upwards you twist the brush so that the longer bristles on the other two sides comb the mascara through and seperate the lashes – does that make sense?
There's also really tiny bristles at the top of the brush so you can coat all those annoying tiny lashes in the corners, and it's quite good at coating the bottom lashes too.
You can obviously get it in black, or you can get it in a black-brown. I've only tried the black and it is really black. Sometimes I find with other mascaras I have to go in with a different brand after application to darken my lashes up but you don't get that with this mascara.
In the description on the Boots website it claims that it does not clump, is long lasting, smudge proof, does not flake, adds volume and length, lifts and curls lashes and adds thickness to lashes – it genuinley does all of that, and it lasts really well too! I've also noticed that they're still runing their buy one get one half price deal, so it may be a permanent offer. Still a great opportunity to snatch up a couple of tubes!

What's your holy grail mascara?