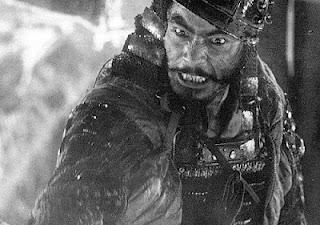 This is one of movie by
Akira Kurosawa
that I love the most after Rashomon. The original title for this movie was
Shichinin no samurai
.
The
Seven Samurai
is the epic tale of a veteran samurai, who has fallen on hard times, answers a village's request for protection from bandits. He gathers 6 other samurai to help him, and they teach the townspeople how to defend themselves, and they in return supply the samurai with three small meals a day. The film culminates in a giant battle when 40 bandits attack the village.
This archetypal action film, which takes place in 1587 during the Warring States period of Japan, is also one of the richest works to ever be painted on celluloid. It is described as one of the greatest and most influential films ever made. Each of the character is sublimely realized; each has his or her own arc, his or her own vital part to play in the film's slow progression towards its dramatic finale.
Typically, Kurosawa has put the film together using an exceeding degree of artistry; each and every shot, each action sequence, is exquisitely composed; and yet none seems contrived or out-of-place within the overall fabric of the work. Everything is beautifully conceived and in focus, both literally and figuratively.
The film became so popular that it went on to influence movies like The Magnificent Seven, a film specifically adapted from Seven Samurai. Many of The Magnificent Seven's scenes mirror those of
Seven Samurai
. It was also one of the first films to harbor on the now-common plot element of the recruiting and gathering of heroes into a team to accomplish a specific goal, a device used in later films such as The Guns of Navarone, Ocean's Eleven, The Dirty Dozen, Sholay.
At 207 minutes runtime (160 minutes in the international version), Seven Samurai would be the longest picture of Kurosawa's career. It won him the Silver Lion award at the Venice Film Festival in 1954. It was voted the 12th Greatest Film of all time by Entertainment Weekly, being one of two films in the magazine's top 20 greatest films not in English.
I would not go into the depths of describing this movie since the images are so true to life that they portray a cinematic poetry rich with emotions which is too sacred to describe with words. But if you are an ardent admirer of classic cinema, do not let the length of the film or the subtitles hinder you, this is a must watch.