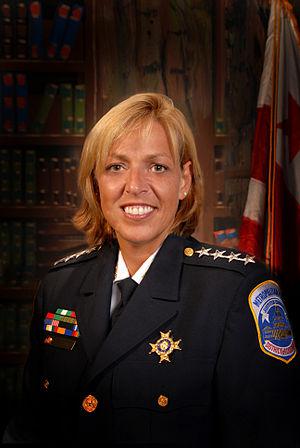 Image via Wikipedia
08/12/2011 – by Cynthia Wright
In a private meeting, D.C. Police Chief Cathy Lanier told LGBT activist group, Gays and Lesbians Opposing Violence that up to  seven police officers may be fired for refusing to take down a report stemming from an anti-lesbian attack that took place near the Columbia Heights metro station on July 30th.
"She said they're going to be doing a thorough investigation but that type of offense can be punishable by termination," group chair, A.J. Singletary quoted Lanier as saying.
"So she laid it on the table that it's possible that they may be fired. That depends on what the investigation determines," he admitted to the Washington Blade.
In a statement released to the public, Lanier stated:
"I was appalled when I heard about the incident and the conduct of the officers. Obviously, this is not the kind of service that the Metropolitan Police Department provides. I have spoken with victims in this case and I want to assure them and the public that the incident and the conduct of the officers are being investigated thoroughly."
Being that the victims were all black women, it is not known whether homophobia and racism came into play when it came to the officers' handling of the case.
At this time, two warrants have been obtained for the arrest of two suspects with the arrests taking place within days.