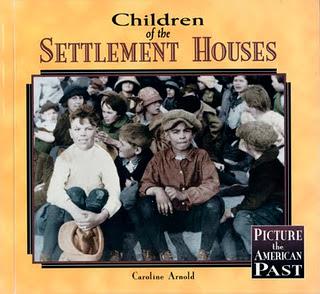 My childhood, until the age of ten, was different from that of most children.  That was because my family lived in the settlement house, which my father directed, along with some of the other staff.  The settlement house was a community center, something like the YMCA.  You can read about settlement houses and their origin in the late 19th century in my book, Children of the Settlement Houses.  Settlement houses still exist, but it is no longer typical for staff to be in residence. 
   Holiday parties were always a high point of the year at settlement houses. They were a time when everyone from the neighborhood could enjoy being together. In the 1950's, when I was growing up in Minneapolis, Minnesota, I always looked forward to the children's Christmas party at the Northeast Neighborhood House (now East Side Neighborhood Services) where we lived. The auditorium was filled with fragrant evergreens and colorful decorations. We played games, sang songs, and watched the drama club put on a play. One year I was an actor and played the part of the littlest angel! At the end of the party each child always received a small gift and a popcorn ball wrapped in colored paper. I still remember their sweet and crunchy taste. Here's how you can make your own popcorn balls.
   POPCORN BALLS: Put ½ stick of butter or margerine, 6 cups of miniature marshmallows, and one 3-ounce box flavored gelatin in a microwave safe bowl and melt in microwave oven. (About two minutes. Check and continue melting if necessary.) Stir to mix. Pour over 12 cups popcorn. ( Optional, add ½ to 1 cup salted peanuts) Stir gently until evenly coated; butter your hands and shape into balls. Wrap in plastic wrap to store. Makes 16-20 medium size popcorn balls.