I was planning to have this post up right on time for the start of October but of course that didn't quite happen so I hope you don't mind it being a little late! I hate being one of those people to say that I can't believe another month has flown by but September just seemed to pass by in a flash, especially with me starting my new job and getting back into the swing of uni with plenty of mention and early stress about the dreaded dissertation. This months favourites include a mix of new products and rediscoveries and have all been getting plenty of love over the past month or so. I'd love to know what some of your favourites have been this month so please let me know in the comments!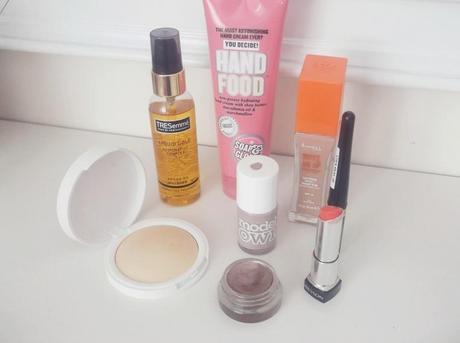 Make-up


Starting off with the face, my foundation of choice this month has been the Rimmel Wake Me Up which has been great for giving plenty of coverage and leaving a lovely dewy finish on the skin. Perfect for early mornings and speedy application that's for sure! Continuing on with the dewy look, I have been loving the Topshop Sunbeam highligher which was a blog sale purchase during the month and has quickly become my go-to highligher with its gorgeous golden glow. Moving on to the eyes, I have found myself going back to the Maybelline 24hr Colour Tattoo in Bad to the Bronze as it is a great creamy bronze color which can either be worn on its own or as a base under eyeshadow, although I do tend just to use it on its own with a bit of liner and mascara when I'm in a rush in the mornings. My new favorite liquid eyeliner is from none other than purse friendly brand Miss Sporty and is the Studio Lash Eye Liner which is currently on offer in Superdrug. I love that the formula is quite thick as is the brush applicator as I'm definitely not a fan of thin and fiddly brushes which require plenty of layering. My lip favorite of the month has to be the Revlon Lip Butter in Tutti Frutti which was another blog sale purchase (many thanks to Stacey for her many make-up stash clearouts) and I'm so glad I finally have my hands on a Lip Butter! Tutti Frutti is a gorgeous orange shade and has been brightening up my Autumn make-up without going overboard.


Nail, hair and skincare


As a bit of a nail polish junkie I always look forward to changes in season as it means I can whip out some of my more wintery shades and my favorite of the month has to be Models Own Slate Grey which I would say is a lot more of a neutral greige than a solid gray shade. David even complimented this color on my nails out of the blue so it must be a good 'un if he is noticing too! The change in temperature seems to be hitting my hair with even drier ends so I decided to finally invest in a hair oil, it being the Tresemme Liquid Gold, and I have noticed a big difference in the condition and overall appearance of my ends so it was definitely a good buy and will be getting a lot of use in the future. Finally, the cold is once again wreaking havoc on my already dry hands and it has been Soap & Glory Hand Food to the rescue with a bottle being taken everywhere I go. Its non greasy formula and gorgeous smell still make it the best hand cream I have tried and I'm sure it will be my favorite for years to come.