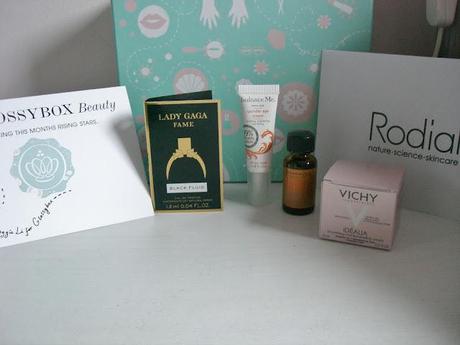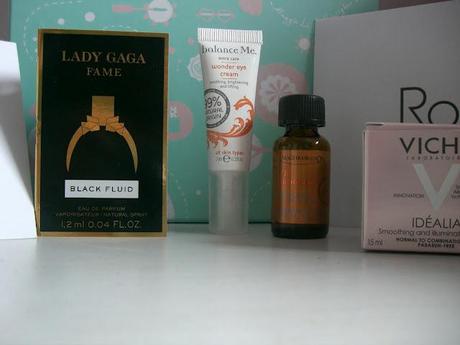 Standard monthly Glossybox post again - time is going ever so quickly and it never seems that long since I received my last box. I'd actually saved up my glossydots this month and got this one for free. I've had it about a week now trying to decided what I actually think about it. For me it has nothing on last months box which I'm still doing posts on the individual products featured.
For me it wasn't overwhelmingly good or bas it was a bit blurgh.
My glossybox included:
Lady Gaga Fame Fragrance Sample 1.2ml
Rodial Glamoxy Snake Serum & 5 Minute Facial (sachets)
Balance Me Wonder Eye Cream 7ml
Vichy Indealia Day Care Cream 15ml
Maghrabian Hair Oil 10ml 
I was surprised to actually like the
Lady Gaga
scent but find the fact that's originally black a little pointless and gimicky also in the opaque black plastic sample tube this is wasted. It works though I guess as a black perfume is a gimicky publicity stunt just like the every day stunts she performs involving meat so I would never buy this even though it does smell quite nice.
I have the Balance Me Eye Cream already as it was in last month or the month befores Glamour magazine again a nice little product but not something I found wowed me enough to think about repurchasing.
Rodial - two products I'm excited to try although I'm not a big fan of sachets as I can never open them and just end up making a mess but will be giving them a full go.
Mostly loving the Hair Oil (can't get enough of these) and Vichy day cream this month.
I still love the concept of Glossybox and getting a surprise each month - it is very hit or miss and I often wonder if spending the £13 on different bits and bobs would be a better idea but then I cant ever bring myself to quit the subscription as I know when I do the next box will be out of this world amazing.
In terms of the box itself I didn't really like it - a nice idea but I think the design could have been much more inkeeping with what was in the box itself and the brand.