Another month and another challenge up on the sleeves of a small Facebook community of avid bakers who love to virtually bake together and share some love. Each month, the moment an email pops up from Swathi of Zesty South Indian Kitchen giving details and a recipe for next month's challenge I am as excited as any child could be, re-reading the contents of that mail again and again. Last month's challenge involved making Puff Pastry from the scratch, so this month's challenge looked much easier yet very interesting. And I can't begin to tell you again how much I am loving these baking challenges as it's allowing me to venture into the zone which is close to my heart and is purely satisfying at the end of the day.
Simit is quintessentially a Turkish bread in shape of a ring very popular on the streets of Turkey and I am guessing it would be a favored snack in the homes of the Turks. This sesame encrusted rolled bread became a hit in my house at an instance to have at breakfast with cheese, cucumbers, tomatoes to go alongside the piping hot Indianized masala chai (tea). I am already anticipating the demand for this just-produced fresh Turkish bread in my house on several occasions, not to mention it would be even insisted on situations that don't call for any occasion but just an opportunity to break bread together on the dining table.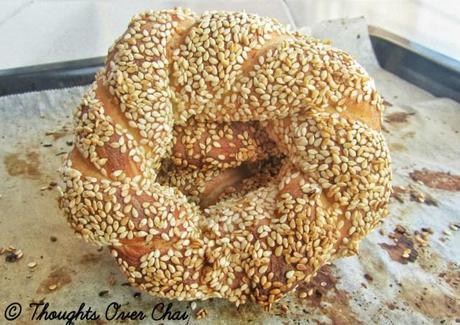 I wondered how close I could get to classic Simit available on the streets of Istanbul but I tried my best to hover through the recipes and watch videos religiously that would typically deal with recreating the same magic in my house. I can't really say if I truly made that mark but the rate by which these went down our stomachs so quickly gave me an immense feeling of contentment.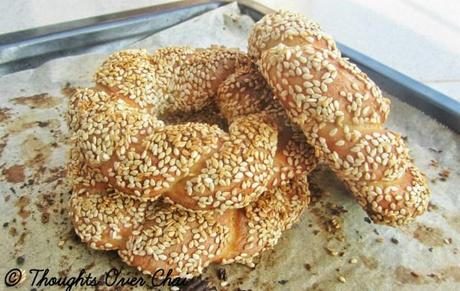 Like always, the divine smell of fresh bread straight out of the oven never cease to amaze me. As you'd begin the process of making a Simit, you'd be surprised how easy it is to make them. And a heartily gratifying and delightful experience by the end of it all! It's got a lovely golden sesame crunch on the outside as you bite into it and a soft doughy bread in the inside which has all the competency of transporting you to the land of Turkey! It is that empowering. Trust me. I am already waiting for a chance when I would go a bit crazy and contemporary (as it may sound) and try Simit with various other potential toppings or fillings to appease my growing interest in baking my own bread at home.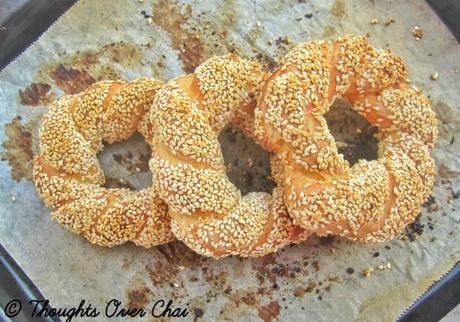 Three cheers for eventually bracing myself to outset on a mission to making my own bread in my small dainty pantry. Thanks to this challenge, I am even more confident now to gradually move forward and finally someday those store-bought breads will be a history having no space on my kitchen racks. Hopefully. Fingers crossed!
Recipe for Simit :
Ingredients :
Makes 3 regular sized Simits.
All purpose flour/ bread flour – 2 1/2 cups
Active Dry Yeast – 1 tbsp
Sugar – 2 tsp
Sesame seeds – 1 or 2 cups
Molasses – 1 cup (I used concentrate of brown sugar and water)
Salt to taste
Water – 1 cup or as required.
Method :
Dissolve yeast in 100 ml warm water and sprinkle sugar for yeast to feed on for about 3-5 mins. Set aside till the yeast proof and a foamy texture forms on top. In a large bowl add flour, salt and yeast mixture. Mix well and gradually add water as required to form a smooth dough. Knead well for about 10 mins so that dough is no longer sticky to touch. Grease the bowl with little oil and cover with cling wrap. Leave it in a warm place for an hour or until doubled in size. Line a baking sheet with parchment paper and keep it aside. Place molasses and sesame seeds ready in two separate bowls. Punch down the dough onto a lightly floured counter top and divide it into 6 equal pieces. Shape each ball into an inch thick long roll. Take two rolls and place them side by side, pinch at the top first to join the ends and twist the strands by rolling in opposite directions from each end, form a circle and pinch again at the bottom to join the ends. Dip each ring into molasses first and then in the sesame seeds. Set aside on the prepared baking tray for 20 mins. At this point, pre heat the oven to 200 Degrees Celcius. Bake Simit for 20-25 mins or until golden brown. Serve with a slice of cheese along with piping hot tea.