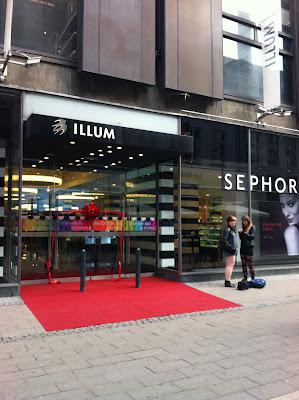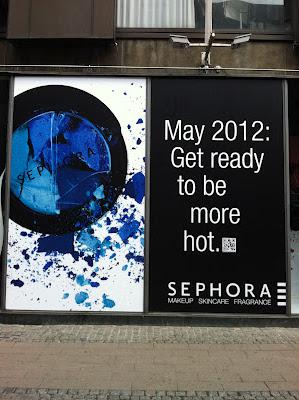 Some of you might already know and some don't. But Skandinavias first Sephora store opened in Copenhagen two weeks ago. The most exciting thing (for me) was that my biggest idol Ole Henriksen was invited to cut the ribbon. It was a big dream come true to not even meet him, but to talk to him, hug him, cheek kiss with him AND have a photo with him :D Two weeks later I'm still high :) He is such a positive and happy man to meet in real life and what a charisma he's got! I love that in spite of so many people showing up only to meet him, he took his time to greet everyone and take photo's and talk to people. I LOVE HIM <3
Enjoy the few pictures I took inside Sephora (sorry about the quality of Iphone. Should have brought my camera along).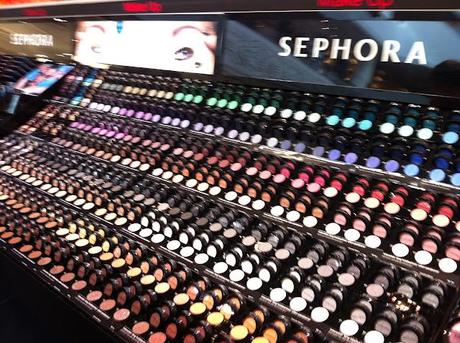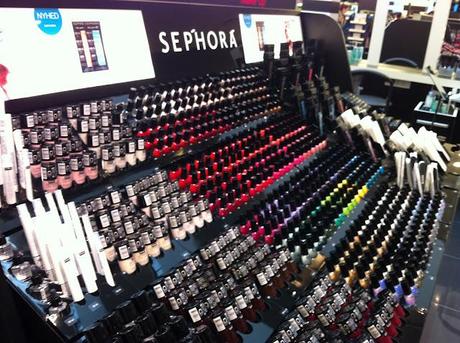 And ofcourse I got some goodies. I was out of eye creamand I decided to buy a Ole Henriksen eye cream. As a gift I got the Three Little Wonder little sample/travel kit. Recently my skin has been breaking out again and after using Three Little Wonders my skin has changed so much (for the better) in just a few days. I should never have stopped using Ole Henriksen products! FYI I have already purchased a cleanser and tonic afterwards.
One of the new brands that we have gotten because of Sephora is the very popular Make up Forever. Didn't get the famous HD foundation since I still have plenty of my Bobbi Brown foundation and I don't use much foundation in summer time. I decided to try two lipstick. Number 11 and 35. From Sephora brand it was the Triple Action Cleansing Water, Long lasting eye shadows in Firey Redhead No 61 (the brown) and Stephane No 38 (the turqoise) and Jumbo liner 12HR wear Waterproof in No 16 Glitter Black. And a lip balm as a free gift.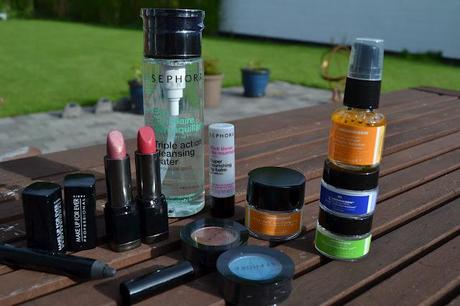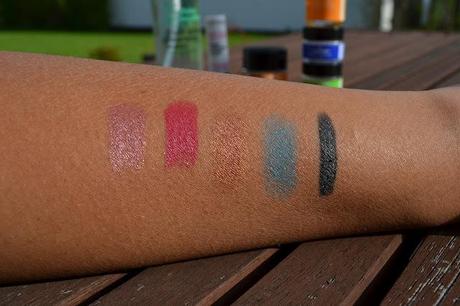 From left: Lipstick No 11, Lipstick No 35, eyeshadow in firey redhead, eyeshadow in stephane, eyepencil in glitter black
Aaaaaaand my favorite photo! Of Ole and I :)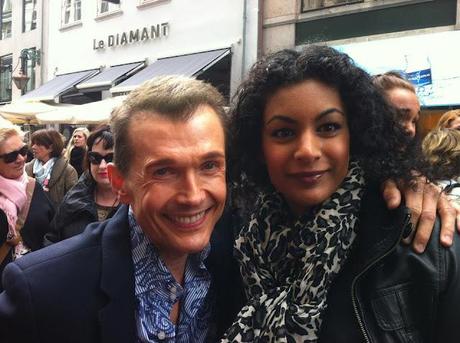 <3