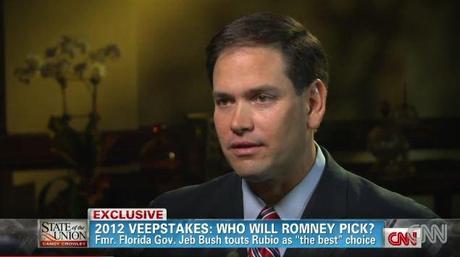 Florida Senator Marco Rubio told CNN's Candy Crowley that former Massachusetts governor
Mitt Romney would choose the right VP. Photo: CNN.
Republican Senator Marco Rubio (R-Fla.) told Candy Crowley on Sunday that former Massachusetts governor Mitt Romney would make a great president, when he appeared on CNN's State of the Nation. However, Senator Rubio would not confirm whether he would consider the post of vice president if he was approached by Mr. Romney.
"[…] I'm not going to even discuss the process any more. I'm going to be respectful of the process he has put in place," Mr. Rubio told Ms. Crowley when she tried to ascertain if the Florida senator would accept the position.
Last week, Mr. Romney revealed that he had started looking for a running mate and that he would definitely announce his choice by the time the Republican convention is held in Tampa, Fla., at the end of August. His former chief of staff and 2008 campaign manager, Beth Myers, will help him in his search. This is the reason why Senator Rubio is unwilling to talk in detail about the process.
Mr. Romney "now has a real process in place. He has folks that he has hired and has asked to go through a vice presidential process. The last thing he needs are those of us in the peanut gallery to [say] what we would or would not do," he explained.
However, when Ms. Crowley reminded the senator that former Florida governor Jeb Bush had said that he really hoped Mr. Romney would choose him [Rubio] as his vice president, Mr. Rubio told Ms. Crawley that he though Mr. Bush would make a fantastic running mate. This is in spite of the former Florida governor saying on Friday that he would not be "the veep nominee". "Lay that to rest," Mr. Bush wrote in a statement.
"I hope he'll say yes if a future President Romney asks him," Mr. Rubio added.
The senator also praised Mr. Romney and said he trusted him to choose the right person for the job.
"He has been a great decision-maker throughout his career in both the private sector and in politics. He's going to make a great choice," Mr. Rubio stated.
Although Mr. Romney has not yet won the GOP nomination, the former Massachusetts governor has amassed 685 delegates so far, according to The Wall Street Journal. In order to win the nomination outright, Mr. Romney will need to secure 1,144 altogether. Former House speaker Newt Gingrich is in second place with 136. Yet, because he would require to win 94 percent of the remaining delegates to defeat Mr. Romney, Mr. Gingrich would need nothing short of a miracle to come in pole position at this point in the race.
Mr. Rubio is planning to campaign with Mr. Romney this coming week.