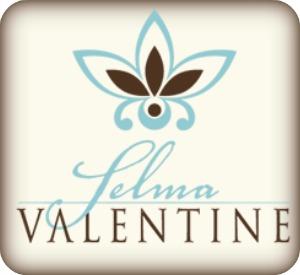 Selma Valentine offers spa products that are made of the highest quality of premium ingredients. The best part about this product line is that it is 100% eco-friendly!
I received the Pink Sugar Reed Diffuser (
$20
;
Also Available in Sun Bathe and Tropical Rain
), Decadent Dessert Sugar Scrub (
$15
;
Also Available in Summer Breeze and Jamrock
), Sweet Sensations Whipped Body Butter (
$15
;
Also Available in Happy Hour and Fresh Bloom
), and the Cucumber Melon Candle (
$15
;
Also Available in Citrus and Teakwood, Litsea and Basil, Water Blossom and Ivy, and Asian Spice
).
Pink Sugar Reed Diffuser
- I placed this in my daughter's nursery to keep it sweet smelling and fresh. It has a light and charmingly sweet smell (thanks to essential oils of orange, eucalyptus, patchouli, and ylang ylang) that isn't overpowering in the least. It's very reminiscent of Aquolina Pink Sugar, which is one of my favorite scents of all time! It is well priced at $20, because the scent will last for about 3 months. Each reed diffuser comes with eight 12" reeds.
Cucumber Melon Candle
- I love burning candles, because it creates a warm and inviting atmosphere in the home. This candle emitted a strong and succulent scent (juicy green melon with a hint of orange zest and musk) when I first opened it, but sadly, it doesn't give off much fragrance when lit. It is still a pretty candle, nonetheless.
Sweet Sensations Whipped Body Butter
- I absolutely love this body butter! Not all "whipped" body butters are the same, but this one was whipped with perfection. The consistency is light, so it deeply absorbs into the skin without making it feel sticky or oily, which is something I hate when it comes to bath and body products. I practically use it everyday, especially after getting out of the shower and had exfoliated. It makes my skin ultra smooth and supple.
It's relatively cheap, making it a must-have purchase for the cold weather that is lurking around the corner. Cold weather honestly doesn't affect my skin that much, but it's known to be harsh for some.
Decadent Dessert Sugar Scrub
- This body scrub would be perfect for most skin types, because it isn't harsh in the least, yet it does a job well done by exfoliating and moisturizing the skin to ultimate perfection.
Disclosure: The product(s) in this review was provided to the reviewer for keeps and the purpose of writing a review. This in no way effects the quality of the review provided. No monetary exchange occurred in exchange for the writing of the review. The views expressed in this review are strictly that of the reviewer. All reviews provided here are the work of the reviewer and remain completely unbiased.