On the first of this month, the Twitter gang were waxing lyrical about how wonderful the month of September is, with its fresh dewy mornings and warm afternoons, not to mention fighting your way through spiders webs.   I looked at this photo for a while after I uploaded it because it didn't look quite right, then I noticed the poor spider has a leg missing.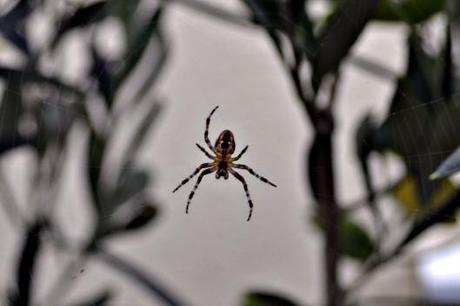 Everyone hopes for an Indian Summer in September, even more so this year after frankly rubbish Summer.   How wrong could we all be!  So far we have had gales and heavy rain and it has begun to feel distinctly Autumnal.
At the entrance to my front garden there is a Hydrangea with very large pink blooms.  When I came home this evening I noticed the wonderful colour that they are turning, so went inside, dropped my coat and bag and grabbed my camera before the light went.  I think the wonderful pinky/maroon tone and green tinge is just amazing, they almost don't look real.

Having taken photos of the hydrangea I noticed that the Skimmia is packed full of red berries.  This made me look around to see what else was "red".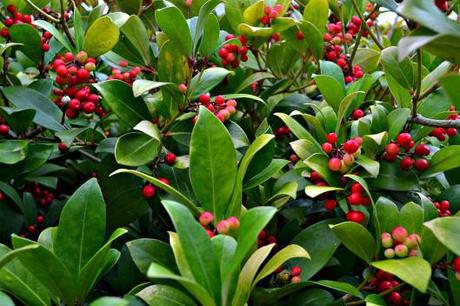 On the wall down the side of the path, there is a Cotoneaster, I have always wondered how it grows so well with no nutrients but it is a very healthy plant.   This too is heavy with berries.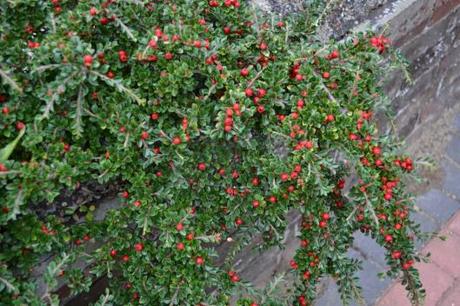 I was beginning to wonder how many other red berries there were in the garden.  There is an old wives tale that says if there is an abundance of red berries then we are in for a hard winter, I am keeping my fingers crossed that this is not the case.  However, when I looked at the holly I saw this…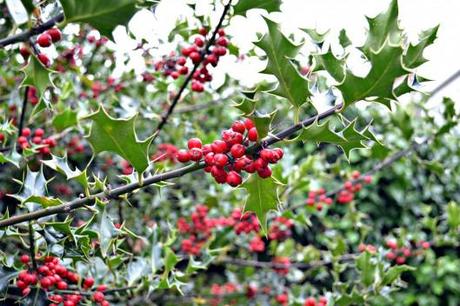 There are some other lovely red plants and fruit in the garden, and I am very relieved that the tomatoes, at long last, are slowly turning red.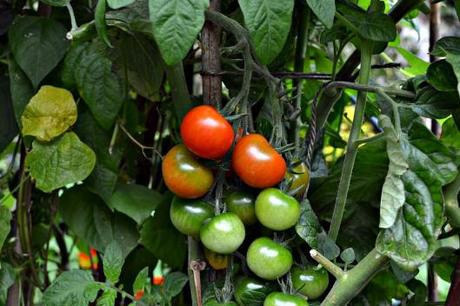 The raspberries are still producing fruit.   I introduced my grandson to the raspberries, he has never had fresh fruit off a bush before and couldn't get enough of them.  I can still hear him saying "Twist and pull" as he was picking them.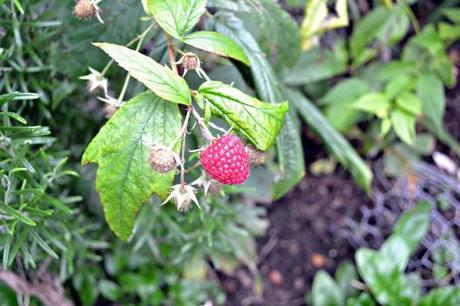 It is lovely to walk around the garden and come across something exciting.  When I went to Guernsey earlier this year I bought two large bags of bulbs from the Freesia Farm, which I put in several pots on the patio.  They produced lots of leaves and I was beginning to think they were all blind but, no, they are flowering.   Very cleverly, they are keeping with the red theme of the garden at the moment, isn't that just great!