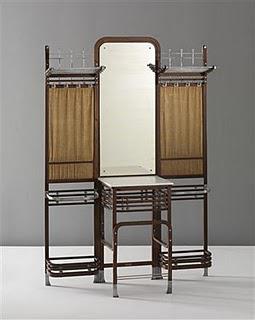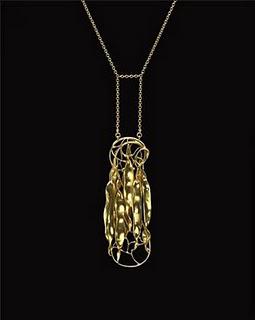 We all have our weak spots and mine belongs to the Wiener Werkstätte, a Viennese design cooperative founded in 1903 by Josef Hoffmann and Kolomon Moser with financial support from Fritz Warendorfer.
I am, and have always been, hopelessly devoted to the Viennese Workshops (as the name is translated). In my opinion, Hoffmann, Moser, and their Workshop associates could do no wrong. I swoon at the thought of Dagobert Peche's work and imagine myself in gowns designed by Eduard Josef Wimmer-Wisgrill. My first trip to the Neue Galerie New York, a museum dedicated to German and Austrian fine and decorative arts, proved to be so inspiring that I went to graduate school to study the decorative arts.
Several years ago when I traveled to Vienna my mission was to visit every museum, shop, bank, and post office that had any remnants of the work of Hoffmann and his colleagues. It drove my travel companion mad but she now feels so comfortable discussing Hoffmann's use of the square that it is if she got her Masters in the decorative arts!


Thankfully this month there are two events going on in New York that will make all Viennese design enthusiast giddy. The first is the wonderful exhibition at the decade-old Neue Galerie New York, called "Vienna 1900: Style and Identity" (on view February 24-June 27, 2011), which shows that the decorative arts were just as important as the fine arts in creating Vienna's cultural identity in the beginning of the twentieth century. The second is an auction taking place tomorrow, March 3rd, at Phillips. As someone I know said to me, the sale features many "old friends" but it also features some rare and important pieces that one would expect to find in a museum.
My top picks (and there are several), include an unusual 18K gold pendant, by Kolomon Moser, in the form of delicate pea pods, which were surely a gift for someone special as one pod is engraved with the date May 12, 1912 (estimated at $350,000-400,000); a rare study for the frieze "Paradies der Tiere" by Ludwig Heinrich Jungnickel located in the children's nursery of the Palais Stoclet in Brussels,(did I mention that I almost got run over by a car trying to make my way to the Palais Stoclet one sunny afternoon?) (estimated at $150,000-180,000); Carl Otto Czeschka's artist's proof panels for the "Kaiserkassette" for Emperor Franz Josef I which was presented to the Emperor to commemorate his visit to the Skoda works in Pilzen on September 9, 1905. This is the first work executed by Czeschka for the Wiener Werkstätte (estimated at $70,000-90,000). The panels are made of gilded embossed sheet metal and depict mythical sea creatures; and finally, a beechwood hall stand, ca. 1904 by Marcel Kammerer and executed by Gebrüder Thonet (estimated at $150,000-180,000). There are several lovely, yet less important pieces of furniture that could serve as companion pieces to the hall stand and create a fabulous Wiener Werkstätte interior for a collector.
The timing of the sale is just perfect- one can marvel at the objects at the Neue Galerie and then shoot down Park Avenue to acquire their very own pieces. Isn't life grand!?
Images: LUDWIG HEINRICH JUNGNICKEL, Important "Paradies der Tiere" frieze study for the children's nursery of the Palais Stoclet, Brussels, 1908-1909, KOLOMAN MOSER, Very rare and important pendant, model no. G 325, ca. 1912, CARL OTTO CZESCHKA, Important artist's proof panels, for the "Kaiserkassette" for Emperor Franz Josef I, model no. S 672, 1905, MARCEL KAMMERER, Very rare hall stand, ca. 1904, Beechwood, aluminum, glass, mirrored glass, fabric. 78 1/4 × 53 1/2 × 20 in. (198.8 × 135.9 × 50.8 cm.) Executed by Gebrüder Thonet, Austria. All images are courtesy of Phillips.