Hello everyone.Can I say thank you to all of you who commented on my last post- its always a bit daunting posting pictures of yourself on the Internet....eeek.
I always count my blessings in my friendship group because I am one of an eight tight-knit girly friendship group comprising of seven other independent, ambitious, loyal women. These girls have been in my life for many years and they have seen me at my best and at my worst. Christmas time in such a large group however can be a very expensive affair so most years we choose secret Santa and set a budget. The irony is the whole "secret" bit doesn't always fair so well when in each others company of a weekend....but that's another post in itself.
This year the budget is £20 so I thought I would help you guys with some fun and Christmas-themed secret Santa presents.I cant help but notice how snuggly most of these items are-it must my reaction to the recent vile weather.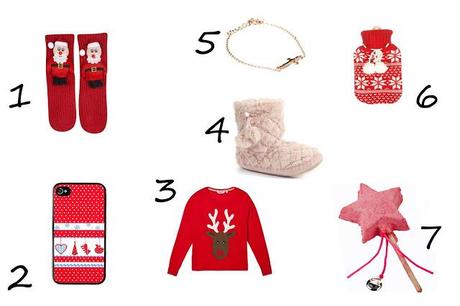 1. Father Christmas Slipper socks- Topshop2. Fairisle Iphone 4 Case- Ebay3. Reindeer Jumper- New Look4. Fluffy Diamonte Slippers - New Look5.Sideways Cross Bracelet- ASOS6. Fairisle Hot Water Bottle- Topshop7. Magic Wand Bubble Bar- Lush
I really do think there is something for everyone here and all are below £20, heck you could buy a few of these for below £20.
Do you do Secret Santa at Christmas time?