My son's second birthday was coming up and we decided to celebrate it in India as we had celebrated his first birthday with much grandeur away from our immediate families. It was mainly going to be a very close family – friends affair with kids having fun and partying. It surprises me that a 2-year-old toddler ( I choose to call him Mr. Brat from now on) is so excited about parties, cakes and birthday songs. There we were, him and I, sitting in a plane with our bags packed and ready to fly to India for a 2 month-long vacation! I still had a month in Mumbai before his birthday to plan and organize the party, so I was running errands frantically catching hold of photographers, event organizers, looking for venue, cake shops and what not while Mr. Brat attended his two hours play school. One fine day, just two weeks away from his birthday , I was waiting in his school to pick him up after class,  I had an idea of also celebrating his birthday in a much better way with less fortunate kids at an orphanage or a children's home on his actual birth date  which falls on 27th December, as the party would be the next day – on 28th! A truly wonderful idea of sharing I thought! But I had to work out the budget and I started calculating. Yes I could and what else would make his birthday more meaningful and fruitful than this? I have seen how NGO's and Orphanages carried out their daily activities when I was working in an auditing firm. Every time I watched these special children or patients affected with AIDS or any incurable disease, I'd think for a brief moment, one day I'd do all that I can to shower them with love and happiness.
I wanted any of the children homes closer to where I was staying to reduce the time of travel.I cancelled out on all the orphanages I knew because they were far,  mostly located in the town areas. After a lot of research, I finalised "Sneha Sadan" which is home to almost 40,000 homeless and street children across Mumbai. When I called at their head office, a gentleman asked me to contact Mrs. Nathelene who is the head in charge of boy's home in Kondivita – a part of suburb in Mumbai. She is a friendly lady who lives in the shelter home with her husband, daughter and 20 other boys who were orphaned at an early age or abandoned by their parents . The organization gives them all an education from a government school, a proper and loving environment to grow and cares for all their needs. There are also some boys who have completed their education, working in companies and earning a salary for themselves.
On 27th all three of us (hubby, brat and I) left for the boy's home to celebrate the most important day in our lives. Being a kiddy party we hosted few games, cut the cake, ate some snacks, distributed some goodies and danced a lot on bollywood numbers! Boys took us by utter surprise when they showed us great dance stunts that requires a lot of practice. I couldn't believe how disciplined and well-mannered these children were! It was a blessing to watch boys and Mr Brat warming up to each other during the whole event. I am so glad we all could come together to celebrate life and love in such a manner.  Now that I am a mother, I appreciate more than ever how important it is to let your child know that he is loved. What I have learned is that you don't need wealth to enjoy simple pleasures of life – it can very well be achieved by doing good deeds and helping one another. We didn't do anything grand or spent loads of money, yet that day will always be cherished. Their smiles, simple gestures will be etched in our hearts forever. I am looking forward to more such opportunities to come my way where I can make at least a tiny difference, in some way, to their lives.
Here are some pictures from that day, though not very clear, I have decided to share with everyone. I hope any of you who reads this post, enjoy them -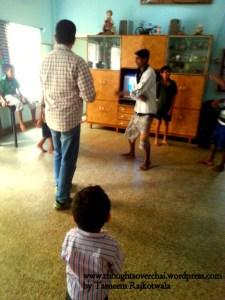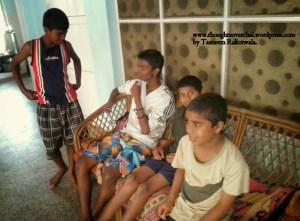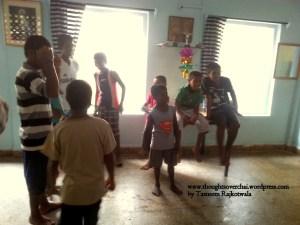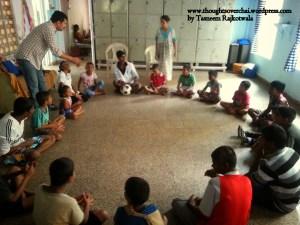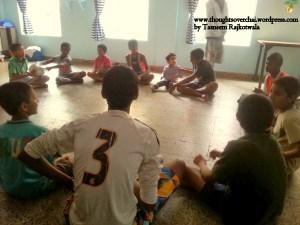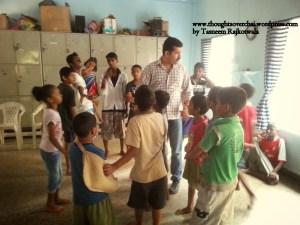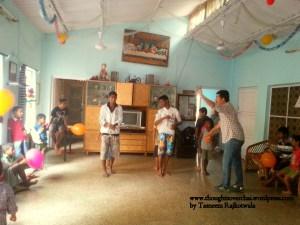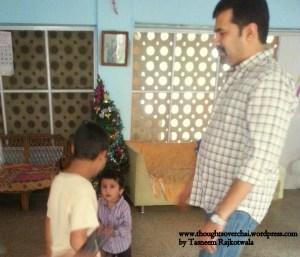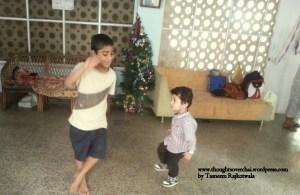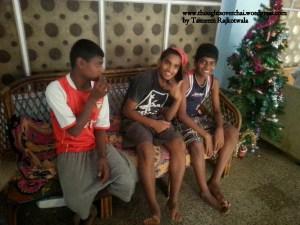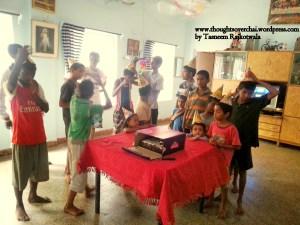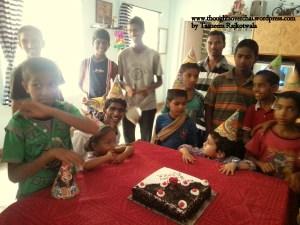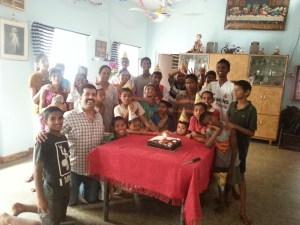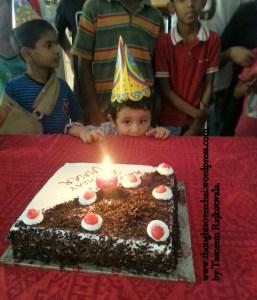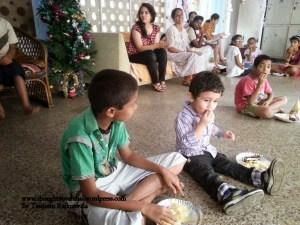 Filed under: Birthday Celebration, Charity, India Tagged: birthday, celebration, happiness, Mr. Brat