Sebastian Joe's is where I discovered homemade ice cream shops... and once I did I couldn't go back. Hand dipped ice cream is not the same as ice cream carefully created in small batches from all natural ingredients of highest quality.


The Sebastian Joe's story started when three brothers started making ice cream in Minneapolis in 1984, the same year that Grand 'Ole Creamery started in St. Paul. Their first venture was called Fratelli, in the Riverplace development on the St. Anthony riverfront in downtown Minneapolis. I don't remember eating ice cream there, but I probably did.
From there they moved to the Minneapolis Chain of Lakes, where they opened Sebastian Joe's (named in honor of their grandfather) at the corner of Franklin and Hennepin. I have licked many a cone from there, walking through the East Isles, Lowry Hill and Kenwood neighborhoods and around Lake of the Isles.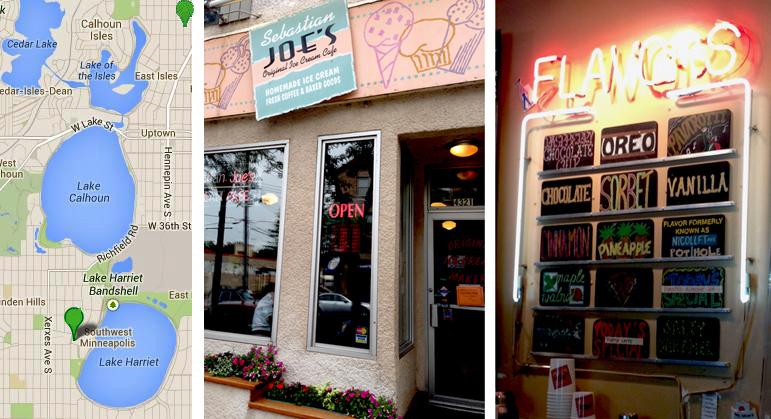 Their location which really drew me in, however, was their Linden Hills shop at 4321 Upton Ave S by Lake Harriet. In their early days we used to meet a group of friends for a walk around the lake followed by a stop at Sebastian Joe's. In those days they were a tiny shop where we picked up a cone and took it outside on the sidewalk to eat it.
Since then they have not only built an inviting outdoor patio, but also an indoor/outdoor space complete with fireplace so you can relax and enjoy your ice cream year round.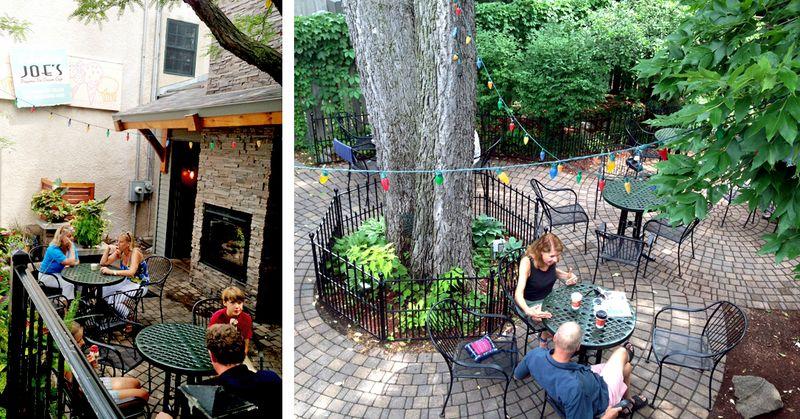 Many other homemade ice cream shops have opened in the Twin Cities since 1984, but Sebastian Joe's continues to be a popular destination with many flavor treats. Sebastian Joe's was the first raspberry chocolate chip ice cream I tasted... I was thrilled to find my favorite sundae transformed into its own flavor! Pavarotti (caramel, banana and chocolate chip) has long been one of the most popular on their full list of flavors which rotates regularly.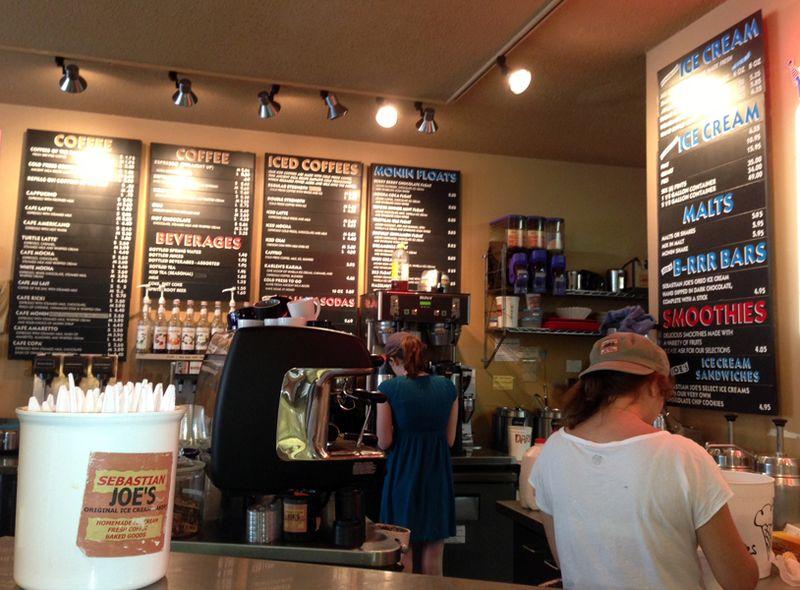 Sebastian Joe's now also roasts its own coffee in their Franklin Avenue location... using organic, bird friendly, relationship coffees from around the world. Their importer works closely with the farmer to both assure the highest quality coffee and benefit and invest in the community where it is grown.
Summer is here... be sure to include Sebastian Joe's on your list of places to stop for delicious homemade ice cream... and check out Linden Hills homes for sale and Minneapolis lakes homes for sale while you are at it!
Sharlene Hensrud, RE/MAX Results - Email - Minneapolis Lakes Area Realtor