The Chamber Music Society of Lincoln Center focuses 2016-17 on Mendelssohn.
by Paul J. Pelkonen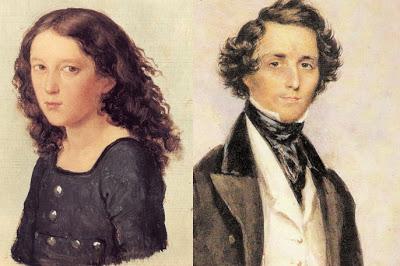 Two sides of Felix Mendelssohn: as child prodigy and man.
His music is at the center of the Chamber Music Society of Lincoln Center's
programming for the 2016-17 season. 
The Chamber Music Society of Lincoln Center has announced its schedule for 2016-17, an ambitious slate focused on the life and artistry of one of the most important but under appreciated composers of the 19th century: Felix Mendelssohn. A pianist at the age of six, Mendelssohn became one of the most noted composers in Europe with his incidental music for
A Midsummer Night's Dream,
published when its creator was just 19.
According to our calculations, there isn't an abstruse mathematical reason to celebrate Mendelssohn's music this year. He was born in 1809 and died in 1847,  joining the sad collection of great composers in the first half of the 19th century to die too young. His chamber music though is due for a reappraisal beyond the sparkling
Octet
and the occasional string quartet. This years CMS will delve into his piano trios, string quintets and other works, showing the diverse achievements of this star composer whose brief life burned very brightly indeed.
Tonal, polite and always eloquent, Mendelssohn's music may be unfashionable but it remains aesthetically pleasing and historically important. He stands on the great bridge between Beethoven and the later Romantics, spanning the gulf with silver threads of sound and perfectly formed pieces that owe not a little to Bach, Mozart and Haydn. He followed in Bach's footsteps as
kapellmeiste
r at the Leipzig Gewandhaus, and in Mozart's since he was also one of the most astonishing child prodigies in history.
Mendelssohn spent his youth composing a stream of chamber music of sterling quality. As a teenager, he wrote twelve string symphonies (for home performance. They are rarely heard these days but are well worth seeking out. His first major work was a piano quartet at 13. A C minor Symphony followed two years later. At the age of 18, he unleashed the Octet and assured success.
As an adult, Mendelssohn spearheaded the resurgence of interest in the music of Johann Sebastian  Bach. At the helm of orchestras in Berlin, Leipzig and London, he was a towering figure who started to establish ideas of performance practice that are still used today, including popularizing the use of a baton by a conductor standing in front of the orchestra. He wrote one opera (the forgotten
Die Hochzeit des Camacho
)  but his oratorios
St. Paul 
and
Elijah
 thrilled London who saw him as a natural successor to the late Handel.
For this year's season, CMS offers the idea of a Mendelssohn "grand tour", incorporating music from other composers from lands visited but he much-travelled composerconductor his short life. Concert programs like
Mendelssohn in Berlin
and
Mendessohn on Fire
will put the composer in his historic context, examining his relationship with older composers (Bach and Haydn) and contemporaries like Schubert.
Joyous Mendelssohn
features his bucolic
B flat Quintet,
while
Mendelssohn's Sorrow
looks at his relationship with contemporary composer and critic Robert Schumann.
This year also marks the fortieth anniversary of the
Emerson String Quartet
, whose former cellist David Finckel remains one of CMS' artistic directors. A two-concert series offers Beethoven, Bartók and of course Mendelssohn. Other programs include an exploration of the connection between Schoenberg and Brahms, and a survey of Bach's six
Brandenburg Concertos.
CMS also offers concerts for children and a slate of intimate recitals in Lincoln Center's Rose Studio.