The New York Philharmonic unveils 2016-17.
by
Paul J. Pelkonen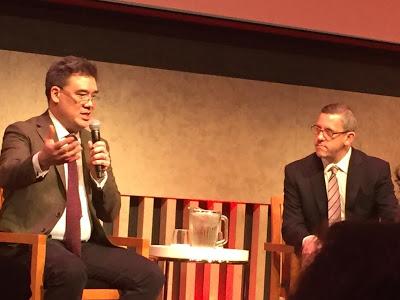 On the mic: Music director Alan Gilbert (left) and Philharmonic president Matthew Van Besien
announcing the coming 2016-17 season at the Rubinstein Atrium. Photo by the author.
The coming season represents two milestones in the illustrious history of the New York Philharmonic. It is the ensemble's 175th season, and as such has a reassuring focus on traditional favorites like Dvorak and Tchaikovsky. And it's also the last season for current music director Alan Gilbert, whose tenure has been marked by an interest in programming new music and an attempt to make America's oldest orchestra reach a contemporary audience.
That division is evident in the coming season's slate of concerts, which offers an overview of the Gilbert years. The outgoing maestro will lead a wide spectrum of works, from Handel's Messiah to Wagner's
Das Rheingold
to contemporary compositions by John Adams. To please their subscribers, the orchestra has programmed a healthy amount of Beethoven, Mahler and of course Dvorák, whose Symphony No. 9 launches the schedule in September.
This morning's press conference, held for the second year in a row at the Rubinstein Atrium at Lincoln Center, featured Mr. Gilbert and orchestra President Matthew van Besien declaring that they weren't offering an overview of the concert schedule. They then proceeded to do just that, breaking down a schedule that moves forward with new works while celebrating Mr. Gilbert's eight year stewardship of the orchestra.
This is not a Biennial year, and no information is available on the planned
CONTACT!
concerts. However, the 2016-17 season features a slew of fresh commissions and new works, including two from composer-in-residence Esa-Pekka Salonen (including a new cello concerto written for Yo-Yo Ma and the first New York performances of the composer's
Wing on Wing
, a new Viola Concerto from Julia Adolphe and a new Violin Concerto from Lera Auerbach. HK Gruber will offer up his new piano concerto and Wynton Marsalis returns with a new composition to receive its world premiere from the orchestra.
The new music event of the season is a concert featuring three works by Kaija Saariaho including
Circle Map
,
D'OM LE VRAI SENS
and
Lumière et Pesanteur
all to be played in a special concert in the vast Drill Hall of the Park Avenue Armory. Ms. Saariaho's unique take on spectral music will haunt these enormous spaces, marking the orchestra's first return there since the acclaimed
Philharmonic 360
concerts.
January brings this year's festival programming: a survey of orchestral and chamber works by Tchaikovsky. Titled
Beloved Friend
after the composer's frequent correspondence with Nadejda Von Meck. The series will feature the Fifth, Sixth and
Manfred
Symphonies, and guest appearances from Yefim Bronfman, Kirill Gerstein and the sturdy conducting of Semyon Bychkov.
Vladimir Jurowski comes to the orchestra in November, leading a performance of the full version of Ravel's
Daphnis et Chloë.
Other guest conductors include Manfred Hoenick, Pablo Heras-Casado, Jakub Hrusa and Zubin Mehta, the only surviving past music director of the orchestra. Mr. Mehta will conduct a program featuring a concerto by Ravi Shankar, played by Mr. Shankar's daughter Anoushka.
The starry cast of scheduled guest pianists include appearances by Emanuel Ax, Yefim Bronfman, Yuja Wang, Lang Lang and Daniil Trifonov. Violonists include Mr. Kavakos, Augustin Hadelih, Nikolaj Znaider, Lisa Batiashvili and Joshua Bell. Finally guest singers include Renée Fleming, Joyce DiDonato, John Relyea and Eric Owens, who will sing Wotan in a full performance of
Das Rheingold
, the opening chapter of Wagner's epic
Ring
. It is unclear if this will be a straight concert performance or staged in some fashion.
Although it's not called "Gilbert's Playlist", the final four weeks of the season will mark Alan Gilbert's last days as music director. He is celebrating with Beethoven's Ninth (paired here with Arnold Schoenberg's
A Survivor of Warsaw
, the aforementioned concert performance of
Das Rheingold
and a final program, the details of which remain securely under wraps.