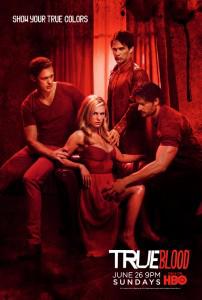 It has been revealed that one of the major heterosexual characters of the hit HBO show, True Blood will be turning gay for Season 4. There is no word yet on who that character is going to be but there will be a romance. Could it be one of the characters in this photo?
Michael Ausiello, from TV Line, has this to say about the big reveal:
"I will say that, having witnessed the big reveal, it doesn't feel gimmicky. In fact, after the initial shock wears off, I imagine you will do what I did and go, 'Yeah. Makes total sense.'"
With only a few days to go until Season 4 starts – it will be interesting to see who it is. Any guesses?
Source: TV Line – Spoiler Alert: True Blood Turns Straight Character Gay…But Which One?
(Image Credit: HBO, Inc.)