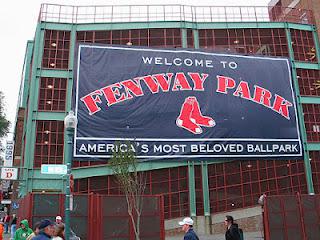 Today I am off to Fenway Park for my second Opening Day ever at America's Most Beloved Ballpark.
I am heading up there on a bus trip with the BLOHARDS, the New York City-based Red Sox fan group. I'll be in Section 3 of the RF Grandstand, and I'll have plenty to write about I am sure, and it will be up here on Saturday. (I was there for my first Opening Day in 2010, a Sunday night win over the Yankees.)
This will be my 21st game ever at Fenway Park. My first was on May 20, 1986, when the Sox played the Minnesota Twins. The Sox knocked out Frank Viola after just 6 batters (he didn't get an out), and went on to a 17-7 win. The batter up that night was Kirby Puckett, and pitching was Roger Clemens. (For years I said it was a matchup of two future Hall of Famers. Now, I'm not so sure.) BTW, Puckett left the early as the game became a blowout, and was replaced by a backup named Billy Beane. Yep, the guy who was once played in the movies by Brad Pitt.
I have good luck seeing the Red Sox live. This will also be the 43rd game I have ever been to with the Red Sox, and they are 27-15 overall. (14-6 at home, 13-9 on the road.) I did some research with my great memory, and put together some stats about the games I've been to.
The Sox are 9-4 against the Yankees, and 3-0 against them at Fenway. The next team I have seen them play most often is the Minnesota Twins, and I have seen them 7 times (3-3 at the Fens, 0-1 at Minnesota).
Here are the other AL teams records. The Sox are 20-11 vs the AL:
Baltimore 2-0 (1-0 at Camden Yards)
Tampa Bay 2-0
Chi. White Sox 2-0
Detroit 0-1
Kansas City 0-1 (Only Patriots Day game I was ever at, in 1987. It was also Fenway's 75th anniversary game.)
LA Angels 0-2
Seattle 2-0
I have not seen the Sox play Cleveland, Toronto, Texas or Oakland live. (I have seen them all in person, but against the Yankees in NY.)
In Interleague play, the Red Sox 7-4 with me in the house:
NY Mets 1-2 (all in NY)
Miami 1-0
San Diego 2-1 (all at Petco Park)
Philadelphia 3-1 (all at Citizens Bank Park)
The last time I saw the Red Sox play Tampa Bay, they were known as the Devil Rays, and it was a memorable day: April 27, 2002, and Derek Lowe threw a no-hitter.
I'll just settle for win on Friday. Enjoy the opener everyone.