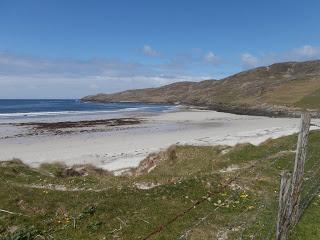 Isle of Vatersay, Outer Hebrides
I was so fortunate, as a child, to have a wonderful sea view from my bedroom window. My father had his wish granted, to run a pub on Blackpool promenade and the family had landed in paradise. It was the beginning of summer and I remember it as blue skies and a sun that turned orange and slipped into a shimmering sea. We went on the beach, a lot. My sister and I played there, all day sometimes. I went out for walks on the shoreline at dusk with my mom. It was our time on a calm evening, quiet, thoughtful, listening to the gentle waves. We strolled between South Pier and Waterloo Road, not far, just in front of where we lived. We would look for creatures in the tangle of seaweed that marked the tideline, but we only found bits of dead crab. It was our mother-daughter bonding. Moments that became special memories to treasure. Even now, many years later, I still think of that stretch of beach as mine.
Although born inland, I've always been drawn to the coast. Any coast will do. When our children were young we had family holidays in Pembrokeshire where every seashore is stunning. There are lots of sandy beaches to play on, also the fun of finding a way over the boulders to poke about in rock pools at Wiseman's Bridge, or skimming stones at Amroth. We covered the English East Coast between Redcar and Withernsea, where the North Sea claims a bit more of the land each year. On a returning visit to Skipsea we were shocked to discover how much land had broken away, including a road that we had used.
The Scottish seashores are breath-taking. I could spend all day looking at Ailsa Craig from the Ayrshire coast. We stayed in a caravan at Embo on the Scottish North East coast where we stepped out directly on to the beach and walked along the shoreline every day. It is somewhere I hope to return to. The most stunning seashores I have found so far are in the Outer Hebrides. At South Uist, the sand shines silver and white, shells are bleached white with the sun – I brought some home and keep them in a jar.
I'll be on my travels again soon. It's time to breathe some Scottish air.
Here is Simon Armitage,     The Stone Beach   A walk, not more than a mile along the barricade of land between the ocean and the gray lagoon. Six of us, hand in hand,   connected by blood. Underfoot a billion stones and pebbles- new potatoes, mint imperials, the eggs of birds-   each rock more infinitely formed than anything we own. Spoilt for choice - which one to throw, which to pocket and take home.   The present tense, although some angle of the sun, some slant of light back-dates us thirty years. Home-movie. Super 8.   Seaweed in ropes and rags. The weightless, empty armour of a crab. A jawbone, bleached and blasted, manages a smile.   Long-shore-drift, the ocean sorts and sifts giving with this, getting back with the next.   A sailboat thinks itself across the bay. Susan, nursing a thought of her own unthreads and threads   the middle button of her coat. Disturbed, a colony of nesting terns makes one full circle of the world   then drops. But the beach, full of itself, each round of rock no smaller than a bottle top,   no bigger than a nephew's fist. One minute more, as Jonathan, three, autistic, hypnotised by flight and fall, picks one more shape   and under-arms the last wish of the day - look, like a stone - into the next wave.   Simon Armitage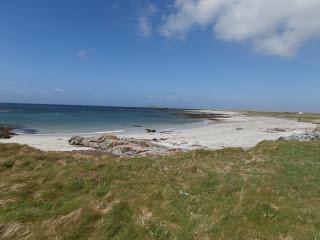 South Uist, Outer Hebrides
Thanks for reading, Pam x
Email This
BlogThis!
Share to Twitter
Share to Facebook
Reactions: