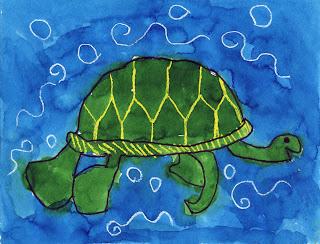 A sea turtle drawing I spied over at istock.com had the perfect combination of realistic (flipper feet, patterned shell) and fun (eyelashes and smile) features, so I turned him into my watercolor project for today.
1. Start by drawing the top curve of the shell, then add the rim below. Add a curved head and face, and flipper / paddle feet below. Trace all the lines with a black permanent marker.
2. Draw house shapes along the bottom of the shell with a crayon. Draw a line up from the top of each "house". Add lines inside the rim. Draw water lines and bubbles around the turtle with a white crayon.
3. Paint the turtle and water. This painting was made with Dick Blick Liquid Watercolor Paint, specifically Green and Turquoise Blue.
Thanks once again to talented Ryan, a kinder, who painted this cute turtle today.