I don't promote a lot of products here, but I feel the need to share this one with all of you.  My travel agent actually mentioned these Sea Bands to me and while we were talking she said her mom had vertigo and it helped her a lot.  Ironically, my husband has had issues with vertigo for a few months now, and… although is a bit comical at times to watch him walk sideways, I do know that it is seriously a very hard thing to live with and really renders you unable to do anything at all.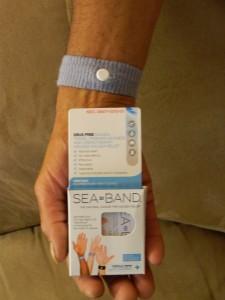 Since my husband isn't a pill person, he'd rather try natural remedies, I went out got one of these Sea Bands for him.  He was in the middle of a vertigo attack when he had put it on, and had not taken his nausea meds for 2 days prior to putting on the band.
Incredibly, it worked right away.  I mean right away!  We were both shocked!
Within a couple hours he was doing his own "testing" and moving his head side to side and getting up suddenly – things which will trigger vertigo.   — Nothing.  No sign of the vertigo.  While the packaging makes no mention of helping vertigo on it, it only states nausea, morning sickness, and travel illness – I can tell you it worked on my husbands vertigo, and worked well.  Make sure you follow the directions for placement on the wrist.
This is NOT  a paid post!  I am simply passing the info along, as I know vertigo is one of those things that a lot of people suffer from and it's hard to find relief for.