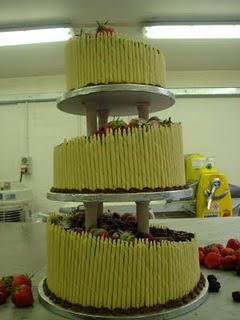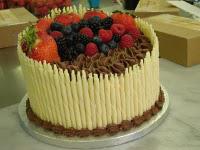 We delivered this gorgeous 3 tier spectacular creation last Saturday, the inside was as tasty as the finish. Chocolate Sponge with bitter chocolate ganache and fresh raspberries throughout, I was salivating while setting this cake up and am so disappointed I didn't get to eat it; this cake is becoming the reason I want a wedding not a marriage a wedding!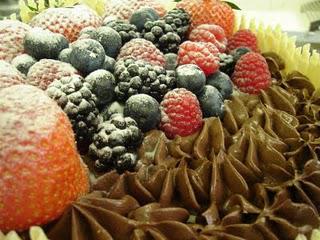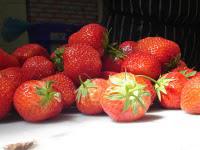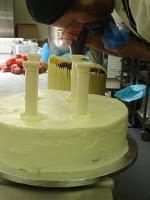 Tiered wedding cakes like this are in fact very sturdy and can withstand a fair amount of movement, tables jogged vigorous first slice, and this is due to what Vincenzo does before it even see's a White Chocolate tube.
Each column is carefully fitted and adjusted so the cake board that sits on top sits flat. Vincenzo will place dowels into each tier in a triangular setting no bigger then the sponge that will sit on top, he will then mark each dowel and cut to the correct length these are inserted through the sponge and covered with a little icing before the pillar is then fitted on top which sits above the sponge and holds the next layer. It sounds so simple but is also the most important part of a wedding cake if fitted correctly you will have absolutely no problems setting the cakes up, displaying them and cutting.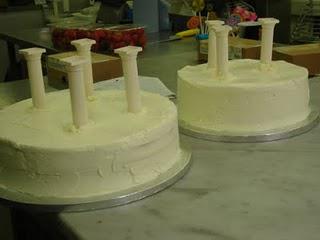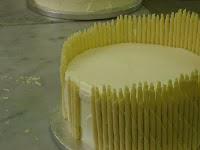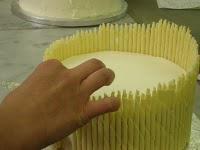 Once all the dowels are correctly fitted we can start to finish the decoration. For this cake we wanted an asymmetrical finish on the outside tubing which would alternate between the stacks; each tube is measured and cut before being placed into position against the buttercream finish on the sponges.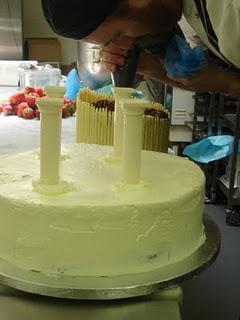 Vincenzo then covers the top in piped chocolate buttercream swirls, over this we build a mounting of berries and finish with a dusting of icing sugar, gorgeous!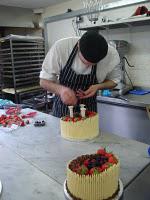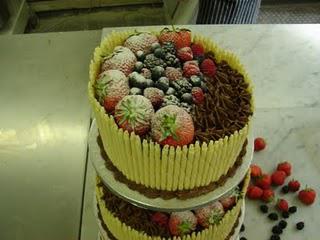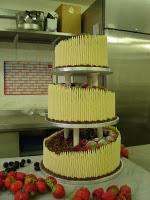 And that is how our fabulous wedding cakes are built!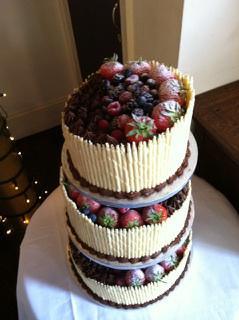 Thank you for taking a look let us know what you think!
Nicola Quigley