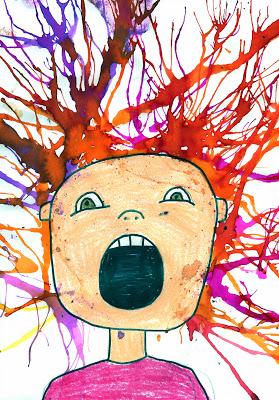 When I saw this idea from Washington Elementary School in Michigan, I knew I had to try it out. I suddenly realized that no one made a rule that blow painting must always be used to make trees. It's perfect for crazy, scary hair too.
Warm up: Look at Edvard Munch's "The Scream" painting to see how much expression can be created with lines and color.
1. Draw a head that takes up the bottom half of the paper. Draw a large mouth and raised features as shown so the face looks tilted up.
2. Trace all the lines with a black Sharpie marker.
3. Color heavily with crayon. The goal is to have any blown paint sit on top of the face and clothes.
4. Use a straw to dab liquid watercolor paint around the head. Blow outward as much as possible to get thick and then thin lines.