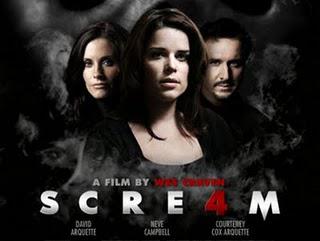 The entire original still-not-dead cast is back (David Arquette, Courtney Cox). But, Scream 4 is all about going beyond, into the "new decade" with "new rules". Scream 4 is also a fair enough attempt at re-starting/finally ending a franchise that has had its up and downs.
Sydney (Neve Campbell) is back in Woodsboro promoting her book when the "ghost-face" murders start again. There is a new breed of young adults running a mock amidst all the killings. Emma Roberts (as Sydney's cousin Jill Roberts), Hayden Panettiere (who sort of stood out in the crowd, in a good way), Marielle Jaffe, Rory Culkin, all try hard to showcase the teens of today but fail miserably. That's the one major problem I had with Scream 4. The movie tries too hard to be "modern". It name drops recent cults like Shaun of the Dead and talks about Facebook and twitter almost forcibly. I am aware social media is part of our lives, but the dialogues don't seem natural and hence the conversations don't seem genuine.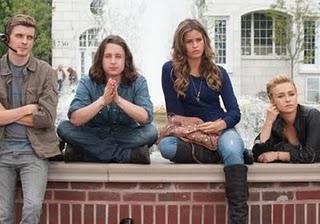 The twist and turns are all there to throw the audience off, but once again it lacks the brilliance of the first Scream. Although Wes Craven and Kevin Williamson are back directing and writing respectively, the movie seems childish.
Scream 4 also ends a good 10 minutes too late. The end scene is simply idiotic. If it wasn't for the cast that comprises of up-and-coming younger talent and can't-get-any-other-work older talents, Scream 4 would have been worse than Scream 3, but marginally manages to surpass it.
A disappointing 2.5/5 Stars.