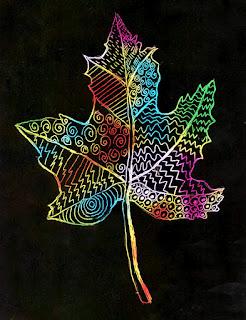 I'm preparing for a Scratch Art Drawing class, which calls for a different plan than a regular drawing class. Erasing is not an option, and I'd like the kids to focus on drawing lots of patterns, so I'm going to give them the outline of this leaf to start with.
1. You can download my leaf template HERE. Print it on copy paper and tape to the front of the Scratch Art paper. Trace with a ball point paper.
2. When you remove the white paper, you should see a faint dented line on the black paper. Trace with a wooden stylus. Trace again to scratch away a thick line.
3. Scratch all the separate areas with different kinds of lines: circles, zig zags, swirls, etc. Challenge yourself to see if each one can be different.