Today is a good day the sun is shining and the sky look clear...
The plan for the day is to get some work done then visit a small place called Cromarty on the Black Isle, I have been told its is a good place for photography and the scenery is nice around there so i should have a few good photos to post on here soon.
I went for a walk to the tall tree Forrest yesterday again and got some great pictures and a small videos for an idea i may use for a project...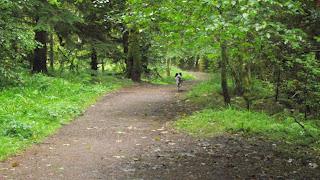 Here's one photo from the woods... Toby come back here now...
I have a few ideas for a project that i want to start but need to purchase a flycam or a glidecam to get the effects i need so i hope to get something sorted out in the next few weeks and maybe get a YouTube video up with in the next month or so.
Thanks for reading and supporting the blog.