Mercedes Dominate on Friday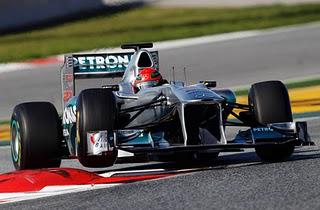 Michael Schumacher in his Mercedes MGP W02
Michael Schumacher set the fastest time on Friday at the Circuit de Catalunya with a phenomenal 1:21.249. This time is also the fastest time overall including the first testing in Barcelona in February. Even Ferrari payed their respects, labelling Schumacher's lap impressive. Michael himself said on Twitter:  "Very productive day. Priority now: develop & fine-tune the car which we have done quite successfully today".
Mercedes were trying out new pieces on their car and seem to have improved their performance considerably since February, when Brawn voiced concerns about the lack of speed. Even though it remains difficult to assess the real strength of the competitors, Michael Schumacher will be delighted at the prospect of potentially having a car to compete right at the front. It definitely would add to the season's exitement to see him up there fight the Ferraris, Red Bulls and, hopefully, the McLarens.
Even though not originally planned, Nico Rosberg also did some testing on Friday. According to Mercedes was the reason the rainy forecast for Saturday, they wanted to give him a chance to test the newly added pieces in dry conditions. Which Rosberg did impressively, with a lap of 1:21.788 he was quickest in the afternoon session, third fastest on Friday altogether.
Fernando Alonso was second quickest with 0.346 seconds off Schumacher's pace. With 141 completed laps he was the busiest driver on Friday.
Sebastian Vettel, who obviously was not trying any qualifying simulations, ended the day in eighth position, 1.684 seconds behind Schumacher.
Jenson Button lost most of the afternoon session, because McLaren conducted a precaution change of the engine, he only managed a 1:25.837 and was second to last.
Remember not to read too much into the test results, because we do not know about the cars' fuel levels, which of the different types of tyres they were using, whether the tyres were new, whether they were using the KERS system, whether they made use of the adjustable rear wing...
Hispania were not able to run their car in the afternoon session, as had been announced. Parts of their car had not arrived in time... If they will not have a complete set of bits and pieces for tomorrow,  put together in time, Hispania will be in the same situation as last year, when the practice session of the first race weekend was at the same time the first time they run their new car.
On Saturday, the final day of pre-season testing, only five teams are allowed to run: Ferrari, McLaren, Mercedes, Williams and Hispania. All other teams, having tested from Tuesday to Friday, have already reached their four day limit, including Red Bull.
According to Saturday's forecast it will be rainy, which will allow to finetune the cars for wet conditions. This could prove to be a crucial advantage against Red Bull later in the season for the title contenders Ferrari, McLaren and Mercedes.
Friday's final results:
  Pos. Driver Nat. Team Time Gap
  1 Michael Schumacher German Mercedes 1:21.249  
  2 Fernando Alonso Spanish Ferrari 1:21.614 +0.365
  3 Nico Rosberg German Mercedes 1:21.788 +0.539
  4 Nick Heidfeld German Lotus Renault 1:22.073 +0.824
  5 Rubens Barrichello Brazilian Williams 1:22.233 +0.984
  6 Kamui Kobayashi Japanese Sauber 1:22.315 +1.066
  7 Jaime Alguersuari Spanish Toro Rosso 1:22.675 +1.426
  8 Sebastian Vettel German Red Bull 1:22.933 +1.684
  9 Heikki Kovalainen Finnish Team Lotus 1:23.437 +2.188
  10 Paul di Resta Scottish Force India 1:23.653 +2.404
  11 Adrian Sutil German Force India 1:23.921 +2.672
  12 Pastor Maldonado Venezuelan Williams 1:24.108 +2.859
  13 Jenson Button British McLaren 1:25.837 +4.588
  14 Jerome D'Ambrosio Belgian Virgin 1:27.336 +6.087
Tuesday's, Wednesday's, Thursday's and Friday's combinded results:
Times were set on Friday, if not stated otherwise.
  Pos. Driver Nat. Team Time Gap Day
  1 Michael Schumacher German Mercedes 1:21.249    
  2 Fernando Alonso Spanish Ferrari 1:21.614 +0.365  
  3 Sergio Perez Mexican Sauber 1:21.761 +0.512 Thu
  4 Nico Rosberg German Mercedes 1:21.788 +0.539  
  5 Sebastian Vettel German Red Bull 1:21.865 +0.616 Wed
  6 Nick Heidfeld German Lotus Renault 1:22.073 +0.824  
  7 Felipe Massa Brazilian Ferrari 1:22.092 +0.843 Thu
  8 Rubens Barrichello Brazilian Williams 1:22.233 +0.984  
  9 Kamui Kobayashi Japanese Sauber 1:22.315 +1.066  
  10 Sebastien Buemi Swiss Toro Rosso 1:22.396 +1.147 Wed
  11 Mark Webber Australian Red Bull 1:22.466 +1.217 Thu
  12 Vitaly Petrov Russian Lotus Renault 1:22.670 +1.421 Wed
  13 Jaime Alguersuari Spanish Toro Rosso 1:22.675 +1.426  
  14 Lewis Hamilton British McLaren 1:22.888 +1.639 Wed
  15 Jenson Button British McLaren 1:22.910 +1.661 Tue
  16 Heikki Kovalainen Finnish Team Lotus 1:23.437 +2.188  
  17 Paul di Resta Scottish Force India 1:23.653 +2.404  
  18 Adrian Sutil German Force India 1:23.921 +2.672  
  19 Pastor Maldonado Venezuelan Williams 1:24.108 +2.859  
  20 Davide Valsecchi Italian Team Lotus 1:25.406 +4.157 Tue
  21 Nico H체lkenberg German Force India 1:26.030 +4.781 Tue
  22 Jarno Trulli Italian Team Lotus 1:26.090 +4.841 Wed
  23 Luiz Razia Brazilian Team Lotus 1:26.723 +5.474 Tue
  24 Jerome D'Ambrosio Belgian Virgin 1:27.336 +6.087 Thu