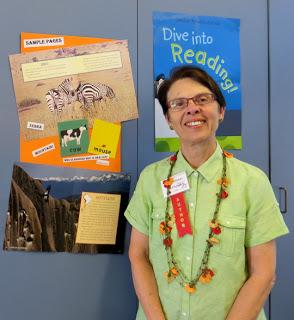 At Meairs Elementary, Westminster, CA
Yesterday I had a wonderful day as an "author in residence" as part of the annual Westminster Author Festival in Westminster, California. The day began with a delicious breakfast at the Westminster Public Library put on by the Friends of the Library and where I met my hosts for the day, Charlene Bailey, librarian, and Kathy Kane, principal, of Iva Meairs Elementary School.  After a short program at the library and valedictory by Joan Hansen to "excite and enchant our readers," we went to the school.  I gave three presentations in the multipurpose room to students pre-school through fifth grade and was pleased with the enthusiastic response by both students and teachers.  A teacher told me at lunchtime that her students rushed back to the classroom after the program so they could start making their own books!  Lunch was a delicious potluck buffet provided by the teachers.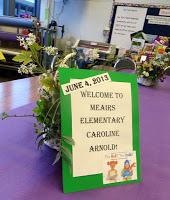 I have been participating in the Westminster Author Festival for many years and glad that it continues to provide the opportunity for students to meet and be inspired by "real live authors."  When I was a child, a never met an author, and I wish I had.  I want to thank Charlene Bailey for doing such a good job of organizing my day at Meairs School and making sure that everything ran smoothly.