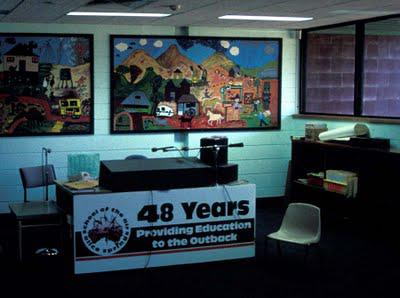 School of the Air main classroom in 1999
   The
School of the Air
is one of Australia's solutions to teaching children who live in remote places.  To find out how it got started, go to my travel blog,
The Intrepid Tourist
for my entry on Alice Springs.  The School of the Air teaches about 200 children, some of them living as far as 1000 kilometers from Alice Springs.  In 1999, when I was in Australia, I visited the main facility in Alice Springs. I listened in as a teacher gave a lesson to a six year old student.  Kids get group lessons by grade level each morning for an hour and then once a week each child gets an individual lesson.  The kids get lesson packets every two weeks in the mail and the work is supervised either by a parent or a governess.  We saw samples of work on display at the school headquarters and it was well done.  In many ways these kids have all the advantages of individual attention in their home schooling and at the same time they are able to grow up on their cattle stations and be part of that life too. 
   School of the Air goes to grade 7 and after that the kids go to boarding school.  Our tour guide on the cattle ranch where we stayed (it was also a B and B) had grown up there and went to School of the Air with his brother and two sisters (in the 1970's and 1980's).  We saw the room that they had used for their lessons, which has been preserved as it was when they were growing up.  Although we had driven into the ranch on a dirt road that was in bumpy but reasonable condition, until recently there was no road at all.  Getting into town was an ordeal, especially if it rained and the creeks filled with water, so School of the Air was the best option. After our visit, I had an increased appreciation of the challenge of bringing up children and educating them in remote places like Australia's outback.