On the opening, titular track of School of Seven Bells' latest EP, vocalist Alejandra Deheza commands the listener to "Put. Your. Sad. Down." Upon first listen of the dreamy, punchy, atmospheric pop jam created in signature SVIIB style, it's practically impossible not to. Who could possibly be sad listening to music this good?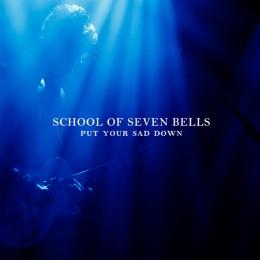 The upbeat stylings of the
Put Your Sad Down
EP is a far cry from School of Seven Bells' last album,
Ghostory
, released earlier this year. That record reflected much of the chilliness of its name, something that the band have continued with
Put Your Sad Down
, only to the opposite effect. "Put Your Sad Down" (the song, that is) is over twelve minutes long; this means that if broken down, the five-track EP could almost create an entire full-length album. It's fitting, because the
Put Your Sad Down
EP feels just as full, glorious, and warm as any longer release.
After the dangerously dynamic, epic introduction of "Put Your Sad Down," things cool down a bit with "Secret Days." A back-to-basics style dance track at heart, Deheza's chilly, sexy tone floats above a bubbling background of synths. The NYC duo are truly at their best on "Faded Heart," a bright yet heartbreaking 80s throwback. "Don't let me go/'cause I don't know what I would do," Deheza pines. You can almost see the strobe lights with each and every drum beat.
Deheza and partner Benjamin Curtis (Deheza's twin sister, Claudia, left the band in 2010) also include a mystical cover of of Silver Apples' "Lovefingers," utilizing vocal multi-tracking to make up for the band's lost member. Luckily it works, creating a gentle, more majestic take on the original. "Painting a Memory" closes the EP, a sprawling, hypnotic dance track more than worthy of your favorite indie disco. At just five songs, Put Your Sad Down finds School of Seven Bells at their very best, which makes us very happy.

4 /5 bars