Saturday, March 17, 2012
Studio Visit: Laura Deakin
I had the pleasure of accompanying Patti Bleicher, owner of Gallery Loupe in Montclair, NJ, (
www.galleryloupe.com
) to Laura Deakin's studio. Deakin is also graduate of the jewelry program at the Munich Academy of Art. A native of Australia, Deakin completed her undergrad degree at Monash University in Victoria and studied with Marian Hosking, another talented jewelry artist.  Not only did I love Laura's work but I also loved her personality, she was just so cool and honest. On her website, Deakin has posted a wonderful short story about a woman who hasn't worn jewelry in so long that when she finally goes to take it out of her jewelry box she sees that it has all morphed into one piece. It is with this same charm and creativity that Laura makes her jewelry.  In 2006 Deakin started a series known as "Dishonest Pearls" (which are available through Gallery Loupe) and in her studio she demonstrated what it takes to make a pearl dishonest.  Vintage pearls are set in speckle or basic plaster from a hardware store, and when pulled away from the sticky goo the only thing that is left is the pearl's luster. Thus a dishonest pearl, a trace of what was, remains.  "Dishonest Pearls" are much more fun to wear than a pair of honest pearls a.k.a your mother's pearl that every girl borrows to wear to her first formal event. "Dishonest Pearls" can be rocked with jeans…these are pearls for the young and hip.  Deakin has started paying more attention to the clasps that she has been using with the pearl necklaces and now attaches wonderful vintage ones that add a touch of sophistication to each piece. Another series that drew my attention was called "Confused" (taking its cue from the lady whose jewelry morphed together and became confused about its purpose), where findings (like backs and clasps) become the actual jewelry.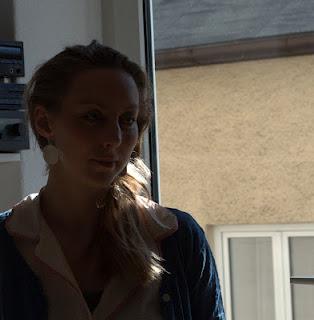 The jewelry artist Laura Deakin in her studio.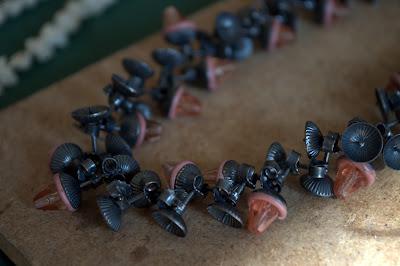 A "Confused" Necklace by Deakin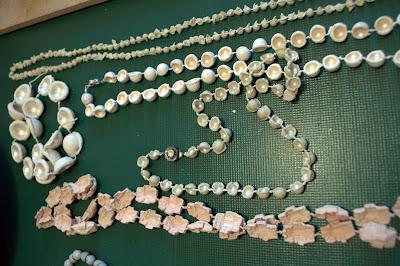 Deakin's "Dishonest Pearls"...notice the pretty vinatage clasp on the necklace in the center.
An assortment of Deakin's necklaces.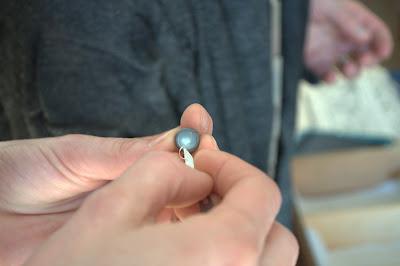 Deakin working on a "Dishonest Pearl"...the luster of a vintage pearl is left behind in the plaster as the artist gently carves away the excess material.
For more information:  Laura Deakin http://lauradeakin.com/  Gallery Loupe  http://www.galleryloupe.com/artists.php?sn=11&artist=Laura+Deakin
Back to Schmuck 
In the afternoon it was time to go back to
Schmuck
at the Neue Messe München. Saturday is an important day for the show because this is when the winners of the Hoffman prize are announced.  In the middle of Hall A1 a stage is set and in a very conservative manner a very big prize is given out. Right before the Hoffman prize is announced, the winners of Talente are also honored. Talente Prize in jewelry was given to Marina Elenskaya and Marta Mattson. Although every category represented in the Talente show had a winner.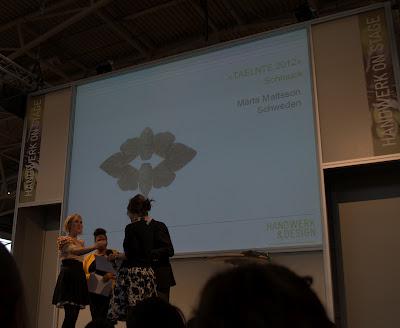 Marta Mattson going on stage to collect her award for Talente.
The 2012 Herbert Hofmann Prize went to Alexander Blank of Germany, Despo Sophocleous of Canada, and Tore Svensson of Scandinavia. (The text below in quotations was the judges' analysis of each work).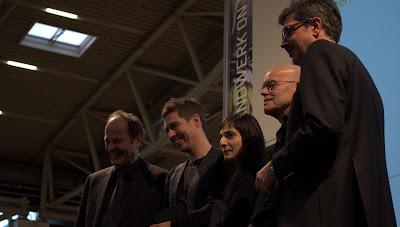 Blank, Sophocleous, and Svensson in the middle with Wolfgang Losche, Head of Schmuck to their right.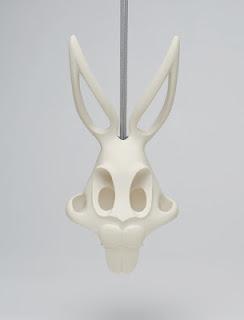 Alexander Blank, "Momento juniori (Bugs)" Pendant, 2011

"Memento juniori!, Remember the youth times! Alexander Blank does not formulate the title of his work in a nostalgic way, but he slaughters the comic-heroes of his childhood, and reduces up until the bones. Even if they look now like skeletons, you can still recognize them: Coyote, the Duck, the Cat, the Bunny. The formal process leads him towards unexpected organic abstractions, which are corresponded with the even more spooky white color that Blank has chosen. This work creates a convincing alliance between comic culture and art jewelery: the icons from yesterday become humorist talismans for the present times."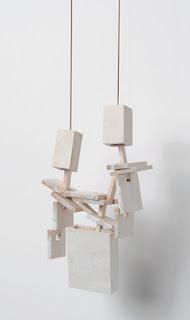 Despo Sophocleous, "Changing in direction 9" Necklace, 2011
"The jewelery by Despo Sophocleous could look like a photo- still of the second before a structure collapses. The representation of instability or precarious balance does not come across as something threatening but is more likely to remind a equilibrium circus trick. With simple means, she creates playful, poetic compositions out of wooden flat pieces. The single elements are loose, so they can lightly clap with the wearer´s movement, providing a sensory, acoustic experience."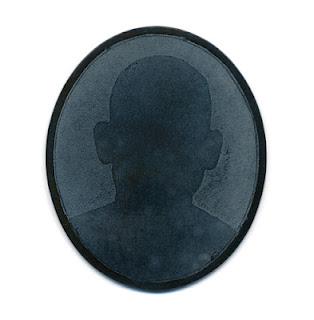 Tore Svensson, Brooch, 2011
"The winning brooches take as a starting point the theme and function from sentimental jewelry. They refer to the classic typology of portrait –medaillons. Tore Svensson brings to the limit the tension between the private and the public sphere, essential in all jewellery, when he decides to remove the lid oft he medaillon and leave the usually secret images unprotected. The portraits made through etching technique on black steel, reveal themselves and disappear as well all the time through a subtle optical effect. With amazing technical precision Tore Svensson offers a metaphor of the ephemeral nature of our remembering."
For more information:  Alexander Blank  http://www.klimt02.net/gallery/artists/index.php?Id=15973
 Despo Sophocleous http://www.galerienoelguyomarch.com/index_fichiers/DespoSophocleous.htm Tore Svensson http://web.comhem.se/~u31431804/index.html
It was really wonderful to see the artists receive their award.  You could tell by the look on their faces that they were honored and elated. It was nice to be a part of that moment in their lives. Just before the Hoffman Prize was announced, Liesbeth den Besten won an award for her book, "On Jewelry" published by Armoldsche. As part of her acceptance speech, de Besten, one of the world's leading scholars on contemporary jewelry, said that she hoped that all artists who participated in
Schmuck
keep their own voice and are not trapped by trends as they continue with their careers. I hope so too. There was so much diversity and originality in the work presented that it must have been very difficult for the judges to choose the winners. 
In the evening everyone that participated in
Schmuck
, all of the curators, the gallery owners, and the students come together for a huge celebration in typical Bavarian fashion at the Augustiner Keller beer hall. It was a wonderful end to an intense yet incredibly rewarding journey for everyone involved, including myself and the AJF group.
Post script…
Every year Schmuck travels to another venue somewhere in the world so that jewelry lovers who couldn't make the trip to Munich don't miss out. This year's edition is going to be on view in Valencia, Spain from April 4
th
- May 27
th
, 2012.