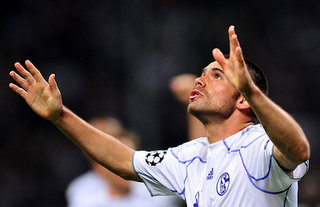 Edu scored two goals against Inter Milan
It really is rare seeing eleven goals scored in just two matches. Thanks to some brash decision-making, poor defending and wonderful moments of brilliance, fans got to see two amazing matches between Schalke 04 and Inter Milan and Real Madrid and Tottenham Hotspur. The final scores of the matches were a spectacular 5-2 win for Schalke 04, and a dominant 4-0 win for Real Madrid.
In Milan, Italian fans at the San Siro were very disappointed with their team's display. Although Inter Milan were a goal up after just 24 seconds, things ended up poorly for the nerazzurri. It was Stankovic's brilliant first time strike from Neuer's clearance which flew into the empty net. The Serbian scored from just past halfway, without the ball bouncing even once on the ground during his spectacular volley. While Stankovic's goal might've been the best I've seen this season, Matip's scrappy effort equalized for Schalke about 15 minutes later.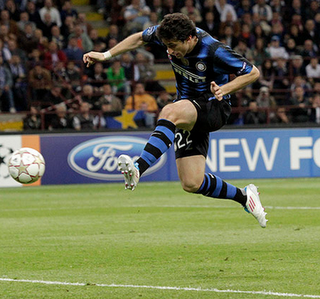 Milito putting Inter in front 2-1, but only temporarily...
At 1-1, Inter continued to push forward, and eventually restored their lead with Diego Milito scoring from a well crafted move which finished in the Argentine's tap-in. But yet again, Inter saw their hard work disappear when broke through the disorganized backline and shot at Julio Cesar. While the Brazilian keeper saved the shot, Edu quickly tapped-in the rebound to send the teams equal at halftime with the score at 2-2.
While the Italian fans expected a reaction in the second half from Inter, it was quite the opposite. Schalke came out and scored three with Raul and Edu both getting goals, along with an unlucky own goal for Andrea Ranocchia. The match finished 5-2 for Schalke, a truly amazing away display from the Germans. Inter now need to travel to Germany in the second leg and win by at least four goals if they want to progress, something which seems very difficult with their shaky back-line.