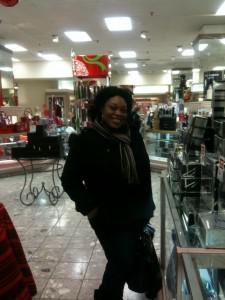 This past week has been busy so I haven't had a chance to post as much as I would've liked. I got a new toy and decided to get better acquainted with it before I started a new post. I treated myself to a new HD lap top that is capable of handling all of my social media needs and I absolutely love it. I guess this is one of my presents to myself  and I promised my sister I wouldn't buy myself anything else until after Christmas. I wonder what she got up her sleeve!
Today my plans were simple, my intentions were to kick back with a bottle of wine my co-worker so graciously gave me and watch one of my favorite movies The Holiday. Since I'm attending a holiday party tomorrow night given by the Chicago Police Department, I would just chillax today especially since the current temperature at the time was 21 degrees. Well as they say, nothing ever go as planned. My sister called me and asked me if I wanted to go to the mall and as most of you know, if I turn down a trip to the mall, I'm sick! So I got off my couch, got myself together, threw on my Uggs and started my mall adventure. We decided to go to Evergreen Plaza, mainly because it's a ghost town in there and just as we suspected the mall was empty even during this time of year. Do you see any shoppers behind me in my picture? Hell Santa was there and it was not one kid in line to see him, I felt bad and started to sit on his lap myself but I figured I would spare him the agony. It would've been whoa whoa whoa instead of ho ho ho!
I went to Carsons Department store in search of what was new in mens and womens fragrances. I wanted to answer some questions I received about picking a fragrance and if you needed to change fragrances with seasons. So I'm going to give a quick overview about fragrances without all the scientific percentages that some may not understand or even care to understand.
The differences between perfume and colonge is, perfume contains more essential oils and less alcohol. Colonge contains more alcohol and less essential oils. Perfume is more expensive and will require less use because it can last anywhere from 6-8 hours, a little goes along way. Colonge is much cheaper but will require more usage because you will need to refresh it every 2 hours . Choosing a frangrance can be a time consuming adventure because the nose will need a five minute break in between smelling different brands or everything will smell the same. My suggestion is to carry a small zip lock bag with ground coffee in it. Smell the coffee in between smelling fragrances and it will get your nose back in tact. Some stores like Ulta have coffee beans out but most don't. Choosing a fragrance requires you to actually try it on your skin and not by the sample cards sales associates pass out. Perfume/colonge reacts to your body chemistry and may smell completely different on the skin. Spray a small amount on your wrist wait 2-3 minutes and then smell to determine if you like it. In the summer, some choose to wear more light floral scented perfume and in the winter, some wear deeper woodsy scented perfume. I don't always go by the seasons, I wear what I'm in the mood for, so the choice is yours as to whether you want to change frangrances according to the seasons. Perfume/colonge is something you have to try out before buying, you can't order it off the internet thinking it will automatically smell great on you. In a way, I choose fragrances according to the name, as something in the name has to stand out to me and reflect some part of my personality. It also has to appeal to my sensibility, I need to have some type of response to it. It's also a good idea to take your partner with you because they will give you an honest opinion as to whether they like it or not. Choosing the right fragrance will gain you attention from others!
My choices in the mens department were Dolce & Gabbana Light Blue, Jean Paul Gaultier, L'Eau D'Issey by Issey Miyake. For women my choices were Kenzo Summer, Coach Poppy, & Ed Hardy Life, Love & Luck.  I also suggest True Religion Hippie Chic, a friend bought me a bottle for my birthday and it smells absolutely wonderful so try it out! There are many fine fragrances for both men and women but what smells great on me may smell different on someone else. After much sniffing and a whole lot of spraying I walked out of there with half of me smelling like a woman and the other half of me smelling like a man. I started to hit on my own self because nothing turns me on more than a person that smells good!

Now Go Smell Away!
Please feel free to give me your suggestions on new fragrances!