If you're new to English Wedding, you may want to subscribe to my RSS feed. Thanks for visiting!
count=" href="http://english-wedding.com/2011/07/scarisbrick-hall-wedding-jenna-and-paul/" false="false">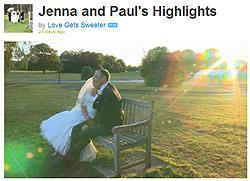 A little something new and different for you today – who fancies a real wedding on film? Oh yes, today we have moving pictures to share with you – and a beautiful, classic wedding day at a stunning venue.
Jenna and Paul's wedding is gorgeous – I loved every minute from the quiet, tranquil laughs and cuddles as the girls got ready (and the boys on a carousel! nothing like being organised, hey?!) to the end of the day. Jenna is a stunning bride – with her blonde hair in a classy up do, her dress is beautiful with sparkle and she looks radiant.
Scarisbrick Hall is a great wedding venue, and the gothic architecture is a perfect backdrop for this super stylish wedding day.
There are tears and laughter through the day. Highlights for me include the gorgeous lensflare in the photography as Jenna and Paul have photos taken in the evening sunshine.
Jenna's table centrepieces are really fab: tall glasses on every table, sooo sophisticated and stylishly simple.
Jenna and Paul's Highlights from Love Gets Sweeter on Vimeo.
I hope you loved this! Thanks to Charlene from Love Gets Sweeter Wedding Films for sharing this video with English Wedding today. Find out more at www.lovegetssweeter.co.uk