SUPER CLOSE TRIVIA RACE THIS MONTH!  PRISCILLA PAEZ IS THIS MONTHS WINNER THOUGH...CONGRATS PRISCILLA!
New Month, New Trivia Contest!  Remember ALL correct answers count towards the monthly prize!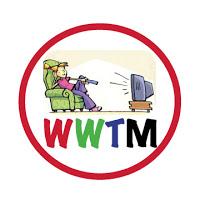 The answer to Thursday's Trivia Question:  The Great Pumpkin is what Linus was waiting for of course!
FIRST FIVES:  Ed Ziskind, Michael O'Dea, Karen Feldman, Heather Sparks, & Alex Nagler.
Honorable Mention: Christine Clarke

Bonus Trivia Answer #1 The parents of the kids Freddie Kruger killed, killed him.




Bonus Trivia Answer #2 The stomping of the divots in Nashville was from Pretty Woman




Bonus Trivia Answer #3 Hayden from Survivor won Big Brother. 

Wednesday's Broadcast Top 5

World Series-FOX 5.7/19.1




Criminal Minds-CBS 2.4/10.6




Survivor-CBS 2.3/9.0




The Middle-ABC 2.2/8.0




Modern Family-2.2/10.6




Wednesday's Broadcast Trendrr Top 5

Criminal Minds-CBS 49,543




Revolution-NBC 47,789




The Middle-ABC 42,696




Arrow-CW 39,662




Survivor-CBS 38,987

Wednesday's Cable Top 5

American Horror Story-FX 2.0/3.7




The Big Bang Theory-TBS 1.2/2.8




South Park-Comedy Central 1.0/1.8




American Dad-Adult Swim 1.0/2.1




FX Movie-FX .9/1.8




Wednesday's Cable Trendrr Top 5




NBA Lakers/Warriors-NBA TV 284,061




American Horror Story-FX 235,639




NHL Bruins/Penguins-NBC Sports 60,429




Restaurant Impossible-Food 33,366




South Park-Comedy Central 30,811

Late Night Ratings for the week of 10/21/13-10/25/13 Leno .9/3.7 Kimmel .6/2.5 Fallon .6/1.8
The Daily Show .6/1.6
Letterman .5/2.6
Colbert .5/1.2 Nightline .4/1.5
Carson .4/1.0 Ferguson .3/1.4 Conan .3/7
Early Morning Ratings for the week of 10/21/13-10/25/13
GMA 1.7/2.0
Today Show 1.7/2.0
CBS This Morning .8/.9


REIGN


I'm pretty sure that Mary, Queen of Scotland, is only 15 years old in Reign. She sure has a lot more than school, boys and clothes to worry about. She's been engaged to Francis, the Prince of France since she's 3 years old. She's definitely into him, but he's not ready to commit, mainly because it's not good for France, but he's starting to come around. Problem is that Mary needs him and France now. Francis looked super hot in his tight pants and peasant top, especially when he was sword fighting with his Dad to get him to send troops to help Mary. The very cute soon to be King of Portugal, Tomas,  was in town looking to score some lumber from the King. He met Mary, took her horseback riding and asked her to marry him all in one day. A total 180 from Francis. What's a girl to do? Love or country? Francis got jealous, got his Dad to send some troops but got his brother cut up in the process.  He freaked out and cut Mary loose to go marry Tomas. We KNOW this can't happen, but that's where things are at this point. Greer, Mary's BFF is pissed off because she likes Tomas but since she's just a commoner, he'd never marry her anyway. Greer poured her heart out to the baker who ended up kissing her. Nostradamus predicted Greer would end up with a man with a white mark on his face, who knew the mark would be flour? The King's still sneaking kisses with Mary's other BFF, Kenna, but Kenna won't sleep with the King so he found someone else which pissed Kenna off. She'll get the king back though. I know it.  I never thought everyone wore their crowns on a regular basis. Sure you break them out for a big dinner or a dance or something but not just around the castle on a Monday. In Reign, everyone who can wear a crown's always wearing one. They look super uncomfortable, they've gotta hurt, especially on the King's bald head. I have to mention the scenery too. Every shot is against a gorgeous backdrop whether its the castle the countryside or the cliffs. They are filming this show in Ireland. I had to look it up because its just SO beautiful. I'm really into this show. I'm hoping the CW renews it.  
Scandal
How good is this show? I mean I literally can't breathe at all when I'm watching. One scene is better than the next, one Olivia Pope outfit is better than the next. I can't take it. Let's break it down. Jake and Huck couldn't be any different and yet their exactly the same right? Love them working together to solve this B613/Operation Remington thing. How hot did Jake look in uniform at the White House Correspondents dinner? OMG I love men in uniform. Leo the OTHER Olivia Pope in Washington, told Cyrus and Mellie that he wouldn't take on the Prez's re-election campaign because he doesn't go with the losers. He told them what Fitz needs to win and Mellie heard it loud and clear, then she heard Olivia and Fitz on the phone together, and knew exactly what she needed to do. She got Olivia to come back. To her, to Fitz to the campaign etc. She's right too, they need Fitz to win re-election. (So do we if we want this show to go on) They need to make it up to him and prove he could do it on his own without any shenanigans. Mellie's awesome. Weird hair this episode, but awesome nonetheless. Okay lets get back to Congresswoman Lisa "Pheobe from Friends". Great secret right? She got pregnant at 15, her Mom raised the daughter as her sister. I don't know why she didn't tell Olivia the truth the whole truth and nothing but the truth, but Olivia and the team figured it out. They ALWAYS figure it out. They have the sticky photo method. (It doesn't just work at the DC office, it works in Montana motel rooms too!) Olivia was brilliant as always, she had Pheobe tell as much of the truth as possible during the debate, but little sister Candice figured out that she's not Pheebs little sister...she's her DAUGHTER! Dun Dun Dahhhh. America doesn't know that part of the story yet, lets see if Olivia ends up using it down the road. I'm betting she does. Okay, so how INSANE was the ending? Olivia's going to come back to the White House alls good right? NOPE! Jake and Huck (Well more Huck than Jake) figured out the Operation Remington conspiracy and its super juicy. SPOILER ALERT BIG TIME! Fitz shot down a plane filled with civilians and Olivia's MOM was on the plane. Dun Dun Dahhhhhhhhh.
Vampire Diaries
Channel 11 ran the Halloween Parade from 730-9pm which pushed Reign to 9 and Vampire Diaries to 10. I had to watch Scandal and tried to watch VD at 11, but I was exhausted and VD's super complicated these days. So before I can blog about it,  I really need to rewatch it. So...be on the look out for either a weekend post featuring Vampire Diaries and Parenthood or just a long edition Monday.  If I can't do it right, I'm not going to do it. Hope you can appreciate the honesty.
NEWS & INFORMATION:
-Another chat fest will be launching next Fall on FOX. The Real, will feature Tamera Mowry-Housley, Tamar Braxton, Loni Love, Adrienne Bailon, and Jeannie Mai.  I sort of know who Tamera is, I definitely know who Tamar is, but no clue on the other 3. The show will air first on FOX and then on BET.
-Kerry Washington's hosting SNL this Saturday,  Lady Gaga's doing the show on 11/16 and Josh Hutcherson from the Hunger Games will host for his first time on 11/23. So who's hosting on 11/9?
-Are you a FOX Fan? If you are Friday's are all about YOU in November. Send in a photo, video or text answering this weeks question which is WHY DO YOU LOVE BONES  and/or RAISING HOPE? use #fanfriday on Facebook, Twitter, Vine and Instagram. All submission have a shot at making it on air and on the shows Facebook and Twitter pages. There's also local contests to enter as well. I've NEVER done anything like this ever and I'm a huge fan of a lot of shows. Have any of you ever submitted ANYTHING?
-Time Warner Cable came clean about their big CBS standoff this past Summer, not sure where they netted out in the deal since everything was kept so hush/hush, but they did lose 306,000 subscribers in the process. Not cool at all.
-I keep reading about a possible How I Met Your Mother Spinoff. Sounds like it would either be called How I Met Your Father or How I Met My Husband. Could be interesting but if it takes another 9 years of my life, my head could explode.
-I didn't watch any Halloween specials to celebrate the holiday, but I did re-watch the Jimmy Kimmel "I ate your Halloween Candy" videos. They kill me...here's my fave: http://www.youtube.com/watch?v=WOlpdd7y8MI
Friday's Trivia Question: Easy one for you guys on this rainy Friday. What was Pheobe's last name on Friends?  Have a great weekend!

WWTM-Kristy

Like me on Facebook at Watching Way Too Much Follow me on Twitter at [email protected] http://watchingwaytoomuch.com

[email protected]