March 18,

2016
Trivia Answer: Okay so only 1 person figured out my amazingly difficult trivia theme. 
Okay so: Nancy MARCHand, MAD About You & Elliot NESS...MA

RCH MAD NESS...MARCH MADNESS!!!! 
First Fives: Congratulations to my friend Karen Heniger for being the only

person to figure it out!!!



THE NUMBERS
Wednesday's Broadcast Top 5
Modern Family-ABC 2.5/8.1
Survivor-CBS 2.1/9.5
The Goldbergs-ABC 2.0/6.6
Criminal Minds-CBS 1.9/9.8
Black-ish-ABC 1.9/6.1
Wednesday's Cable Top 5
Big Bang Theory-TBS .9/2.3
American Dad-Adult Swim .9/1.9
NCAA Basketball-Tru .7/2.1
Property Brothers-HGTV .6/2.1
Little Women LA-Lifetime .6/1.3
Wednesday's Social Media Top 5
Mob Wives-VH1 32,000 Tweets
Nashville-ABC 27,00

0 Tweets
Survivor

-CBS 11,000 Tweets
The Americans-FX 6,000 Tweets
Jimmy Kimmel-ABC 5,000 Tweets 
Late Night Ratings for the Week of

3

/

7

/16-

3

/

11

/16
Fallon-

.8

/

2.9
Kimmel-.

5

/2.

3
Colbert-.

4

/2.

4
Seth-.

4

/

1.2
Corden-.3/1.2
Trevor Noah-.3/.8
Carson Daly-.

2

/.9
Conan-.2/.5
Larry Wilmore-.

2

/.5
Early Morning Ratings for the Week of 3/7/16-3/11/16
GMA 1.5/1.7
Today Show 1.5/1.8
CBS This AM .9/1.0
THE SHOWS
Scandal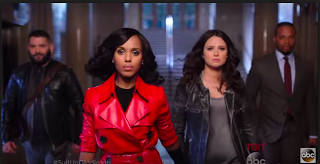 Is it me or has Olivia become the weakest link in Scandal? The old Olivia would NEVER stalk her ex and watch him like a reality show on her laptop. Okay I'll admit she has had to deal with a lot. The kidnapping,and her terrorist Mommy and lunatic Daddy, but she had two pretty powerful men who would do anything for her and she was sort of running the country there for a while but now she's home watching her ex having sex all night on her laptop. OF COURSE Jake knew, he's Jake, the KING of stalkers, I mean he did watch Olivia for a while on a million screens, if you recall. Can't put anything by him. What I'd really like to know is…what kind of printer does Olivia have and where does she hid it in her apartment. She must spend a fortune on photo paper and ink. Did you see how many photos she had and that was WITHOUT a magical sticky window to display them all. I don't like the "on-the-couch" Olivia. I don't like the one who forgot about Gladiating. I want the old Olivia back. All the way back. Abby's turning in to Olivia which at least gives me something interesting to watch. I honestly didn't think she had it in her but she did. She told the President that Cyrus was working for a Democrat (GASPPPPP) fired him and is now his Chief of Staff. GOOD FOR YOU ABBY! Also…Good for Susan Ross for having some huge b@lls to scream a the President. Mellie better get out her huge set and put them on because she's got some major work to do now that Hollis Doyle aka Donald Trump has stolen all of her ideas and is running for President. I don't know if I want to watch a fake Donald Trump, the real one's actually enough for me. I am proud of Huck. Was nervous there for a minute. Thought he'd rip his ex-wife's new boyfriend apart with a tweezer or something but he must be reading some pretty good self help for assassins book or something because he caught himself just in time and didn't kill the poor guy. Not only that but he's STOPPPED the stalking of his ex-family. Good job, Huck. Between you and Quinn maybe Olvia will get it together and get back to working and Gladiating. 
THE OTHER STUFF
-ABC cancelled Kings and Prophets after just 2 episodes. I'm always intrigued when this happens. Someone at the network green lit the project and allowed episodes to be shot. Camera crews were hired, sets were built, actors were cast and then just like that…done. Maybe it was a Paul Lee thing and Channing Dungey just got to her new office, took a look at it and said "WTF was he thinking?" and called it a day. 
-On the flip side, WE renewed Growing Up Hip Hop
-I totallllllly forgot to tell you guys about this yesterday but it doesn't matter...on Wednesday night's James Corden show, he did the ENTIRE show from some random strangers house. You gotta see the episode. Here's a taste: https://www.youtube.com/watch?v=SoMVGipJbwI
-I have no idea why I stopped watching Vikings. I loved Ragnar Lothbrook and his kick ass ex-wife and for some reason I just stopped watching the show. I guess I can go back and catch up especially now that 20 more episodes have been ordered AND Jonathan Rhys Meyers is joining the cast. Haven't seen that guy in a while but if he's has hot has he was in The Tudors then it may be worth some bingeing. 
-You know that when CBS announces the start of Big Brother it's a sign that Summer is just around the corner and my countdown clock begins. BBQ's the beach and BB! June 22nd baby, that's when Julie is back in my life and the BB Bullets are back in action. 97 more days! No need to write it down, or set an alarm in your phone. I'll make sure to remind you as it gets closer. 
-Larry Drake aka Benny from LA L

aw passed away yesterday. I was going to make that my trivia question but if nobody remembered who Larry Drake was, I would feel bad for the guy like we did when he was on the show. Plus I couldn't screw you guys with 2 hard trivia questions in a row. RIP Larry Drake
Friday's FRIENDS Trivia Question: What did Monica's boyfriend Richard do for a living? Name the actor who played him
WWTM-Kristy
Like me on Facebook at Watching Way Too Much
Follow me on Twitter at tvnme
http://watchingwaytoomuch.com
[email protected]