And it looks like it's going to be time travel for the win.
Or at least I think so.
Eh, I don't really know.
As expected, The CW has picked up that peculiar Arrow/Flash spin-off.  As I previously said, we always knew Brandon Routh's Ray "ATOM" Palmer was being primed for his own spin-off. There was no way to expect his spin-off to turn into a combined Arrow/Flash spinoff co-starring two Flash villains (played by Wentworth Miller and Dominic Purcell), one-half of a Flash hero (Victor Garber), an Arrow actress whose character is ever so dead at the moment (Caity Lotz), and three DC characters making their live-action debut (Arthur Darville as Rip Hunter, Ciara Renée as Hawkgirl and Franz Drameh as a mystery character).
Well, now we have an official title: DC's Legends of Tomorrow.
A. "Legends" or "Legends of Tomorrow" had actually been the rumored title for a while now.  So, it's not a huge shock.
B. Adding "DC's" in front of the title inevitably draws to mind how Agents of SHIELD's official full title is actually Marvel's Agents of SHIELD.
Here's the official description:
When heroes alone are not enough… the world needs legends. Having seen the future, one he will desperately try to prevent from happening, time-traveling rogue Rip Hunter is tasked with assembling a disparate group of both heroes and villains to confront an unstoppable threat – one in which not only is the planet at stake, but all of time itself. Can this ragtag team defeat an immortal threat unlike anything they have ever known? DC'S LEGENDS OF TOMORROW stars Victor Garber ("The Flash," "Alias"); Brandon Routh ("Arrow," "Superman Returns"); Arthur Darvill ("Doctor Who"); Caity Lotz ("Arrow"); Ciarra Renee ("Pippin"); Franz Drameh ("Edge of Tomorrow"); with Dominic Purcell ("The Flash," "Prison Break"); and Wentworth Miller ("The Flash," "Prison Break").
According to THR, The CW ordered the project sight unseen since there is no pilot at this point, but there is a special 3 minute video which was made especially for next week's upfront presentations.  The CW gets its turn at the upfronts on Thursday (5/14), and the video will surely show up online then if not shortly before.  Hat tip to HitFix for pointing out how Dominic Purcell and Wentworth Miller's names are left to the very end and categorized as "with," which usually designates someone as a recurring character instead of regular.  It could also simply be a contractual thing.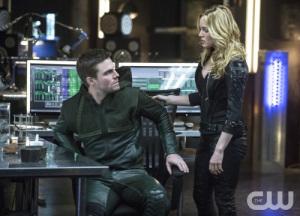 Perhaps the single most confusing part of this whole project has been the inclusion of Caity Lotz.  Her character, Sara Lance, served as the subject of a "Who Killed Laura Palmer?"-esque murder mystery for the first half of Arrow's third season.  So, how is she involved in this universe anymore?  Are we talking a Lazarus Pit resurrection, parallel universe, completely new character who simply looks just like Sara, maybe brunette instead of blonde? 
We still don't actually know, but when Arthur Darville was cast as the time-traveling Rip Hunter it introduced the option of Lotz playing a version of Sara from before her death because, you know, wibbly-wobbly, timey-wimey and all that.  Coming from Doctor Who, Darville should know all about that.  Now, we know that Hunter will in fact be the fulcrum of Legends of Tomorrow, and although the plot description does not specifically mention that he will be pulling heroes and villains from different time periods it doesn't say he won't be doing that.
Or that could be totally off base.  There's still one more episode of Arrow left this season, and while the CW has not announced when Legends of Tomorrow will air it's not expected to premiere until mid-season next year.  Thanks to all the time travel shenanigans over on The Flash, Sara could return via time travel before Rip Hunter ever shows up.  Oliver could also resurrect her in The Lazarus Pit in the season finale.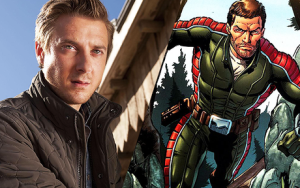 The more comic book knowledgeable among us will have to dig up some theories about exactly what threat Rip Hunter could be facing.  I've read plenty of classic and modern Batman and New 52 Flash comic books, but I've never seen Rip Hunter before.  He's been around since 1959, serving on the more sci-fi end of DC for most of his existence, and he was a key plot device during Crisis on Infinite Earths, a continuity-shattering event in the comics which The Flash keeps hinting it's building up to.  He also has a long, weird history with Booster Gold, a fan-favorite time traveler many theorized might turn out to be Dr. Wells' real identity on The Flash.  They were wrong.
The pushback against the entire idea of Legends of Tomorrow to this point is that it seems a tad too slap-dash, evidence of a group of producers taking their eye from the prize and letting franchise opportunities distract them from how bad Arrow has become.  Now that I've seen the official plot description I am intrigued at least in the sense that this sounds far more like a special event limited series than something truly designed for the long haul, and as a fan of Caity Lotz' work as Sara Lance I am at least excited about seeing her again.  Plus, they just cast Arthur Darville to play a time traveller!  How can I not at least be a little interested to see that?  Moreover, to this point Arrow has been a Batman knock-off, The Flash has been a Richard Donner Superman homage, or so the producers say.  What will be their model of Legends of Tomorrow?  Some weird marriage of Doctor Who and 12 Monkeys?
What say you about all this?
Source: THR