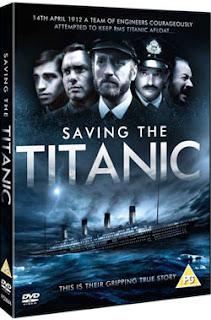 Its competition time again. Ticker Talks Film is giving you, my loyal readers, and new ones too, in the UK, a chance to win a DVD of
Saving The Titanic
;
the remarkable untold story of nine brave men who fought against the sea to try and save the doomed Titanic
Here is all the information you need to know about this one of a kind story told in the format of a docu-drama bringing alive the bravery of men as they fought against adversity onboard the Titanic in what was to be one of the biggest disasters of the last century.
"She was the pride of the British Empire: The RMS Titanic. Yet she sank in less than three hours after striking an iceberg on 14 April 1912.
There have been many stories and dramas of the final few hours of the Titanic, but the unique tale of how a team of engineers attempted to save the stricken vessel has never been told before. Now 100 years later this gripping true story is told in Saving The Titanic, which comes to DVD for the first time courtesy of Arrow Films on 16 April 2012.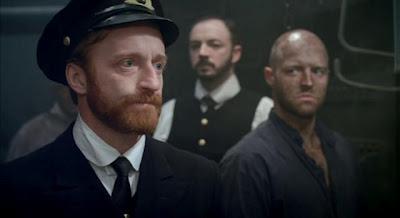 Saving the Titanic tells the story of the disaster from below deck. Based upon eye- witness accounts, this remarkable docu-drama recounts how nine men attempted to courageously hold back the power of the sea and keep the power systems running, even when they learned that all was lost. Most of these men died but their actions saved many lives.
The film features a stellar ensemble cast of leading actors including David Wilmot (The Guard; The Tudors; Intermission), Ciaran McMenamin (Young James Herriot; Primeval), Hugh O'Conor (Your Bad Self; Killing Bono), Stephen Hogan (Injustice; The Tudors), Conor MacNeill (Cherrybomb; 50 Dead Men Walking), and Chris Newman (Love/Hate; Love Is The Drug).
Saving the Titanic is an insightful and clever look at one of the great maritime disasters. It approaches its subject matter in a unique way, and is supported by a strong cast and a superb production design."
TRAILER – SAVING THE TITANIC
Our friends at Arrow Films and Aim Publicity have graciously agreed to provide us with a copy of this brilliant film which can be yours by answering a simple question;

How many years has it been since the dreaded day the Titanic sank?




Please send your answer to tickertalksfilm (at) gmail (dot) com with the subject line - "Comp - STT"




ALL THE BEST!




Terms and Conditions




The competition is open ONLY for UK residents

Ticker Talks Film has right to refuse entry if suspicious

Deadline for competition is Friday 28th April 2012

One entry per household

Ticker Talks Film takes no responsibility for any damaged, late or lost/stolen prizes.

All prizes come direct from supplier delivery time of prize can vary.

All winners will be picked at random and contacted by email

No cash alternatives or exchanges accepted

Ticker Talks Film have the right to change,alter or cancel the above comp with no notice.