Every parent knows that there are monumental expenses associated with raising a child, especially during the first few years.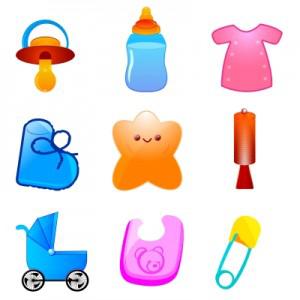 When you bring a new baby home, you need diapers, formula, clothing, bedding, toys, bottles, and a mountain of other items in order to care for your little one. Many parents simply accept that raising a child is going to be expensive without realizing that there are plenty of opportunities to cut the costs here and there.
This does not mean that your baby will have to go without items or be deprived of anything; it simply means that there are ways that you can shop smarter when preparing and caring for your baby. There are several strategies you can adopt in order to save money while providing well for your newborn.
Do Not Over Prepare
Some new mothers go a bit overboard with the nesting process and buy every baby product that has been marketed to them. Does it really make sense to go out and buy an expensive toy or other gadget before your child is even born? You have no idea what your unborn child's preferences are going to be. Only buy the items that you know your baby is going to need and then let the child show you what he or she likes and needs as they grow and develop. You do not want to spend hundreds on a bouncer that makes your baby cry every time he sit in it. Also, if you wait, you may receive many of the luxury type baby items that you are tempted to purchase for yourself via a baby shower.
Buy in Bulk
You will quickly learn that there are certain items that you need to buy very frequently, such as diapers, baby power, formula, or baby wipes. A great way to save money on these items is to buy them in bulk. You know for a fact that these are items that you are going to need, so there is no risk that they will go to waste. When you buy in bulk, suppliers will often give you fantastic discounted rates on the items.
Think Ahead 
Babies grow incredibly fast. One of the easiest ways to waste your money when shopping for a newborn is to buy items that the baby is going to grow out of very quickly. When shopping for baby clothes, for instance, you should always try to buy clothing that is a little too big. If you buy clothes that fit snuggly, the baby is going to need new clothing again within months, or even just a few weeks. You should buy clothes that are a few sizes too big, but not so big that they could be considered a safety hazard.
Shop For Used Items
Because babies grow so quickly, you will find that there are a lot of other mother's out there interested in giving away or selling their old baby clothes, toys, and other items. You might think that your baby needs new everything, but why pass up free or extremely cheap items that will work just as well. There are plenty of great stores that sell gently used baby products that are completely safe for your baby.
The general rule of thumb when saving money on baby products is to spend where it counts, and save everywhere else. This means invest in items that relate to your baby's safety and well being, such as the car seat or crib, and save on all of the items that the child is going to outgrow quickly, such as clothing and toys. This will keep your baby and your bank account safe and happy.
Debbie Phillips enjoys writing about ideas to help stay at home moms from saving money to keeping the kids busy at FreeStuffandSamples.com.