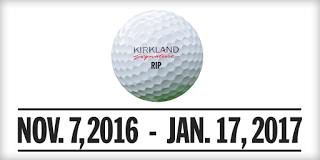 Can the K-signature ball be saved? This tour spec ball at $15 per doz was great for consumers but bad news for the business models of OEM's.

Could someone (group) place a large order for these balls with Nassau and supply again via another retailer? Golf Refugees have a quote from the manufacturer, we will see if this quote is still valid.
There could be other manufacturers who produce a tour-spec 3 / 4 - piece ball. MyGolf Spy could ask and test these to see which is best and comparable to the performance of the Korean Nassau / Kirkland ball.

Our idea would be for a 'consumer ball'. Where the packaging could depict images from people who place orders.
#kirklandsignature #consumerball #golfrefugees ooooooooooooooooooooooooooooooooooooooooooooooooooo