Last week, I paid a highly anticipated visit to the Food Hall in Marks & Spencers, armed with a gift-card (thanks, Colin's dad!).
After years of drooling over their many food-porn adverts in the past (you know the ones… like Nigella on Viagra… food descriptions so sexualised they bear the brunt of some hilarious spoofs), I felt excessively indulgent making my way through the aisles.
You know me… I like my Aldi/Lidl. This was new territory for a lowly scoundrel such as I.
I picked up some lovely bits and bobs (such as some Messicani pasta and paella rice… trying my hand at a chicken & chorizo paella tonight!), but I steered clear of the ready meals. It made me realize something about myself as a consumer; as an eager home cook. This, my friends, is where I admit that I find food shopping massively enjoyable.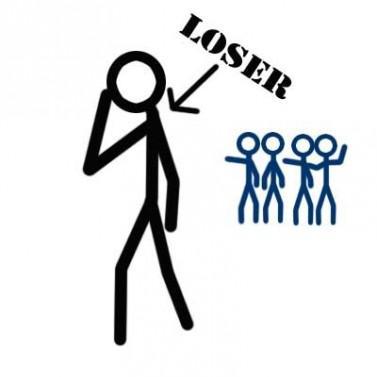 Food shopping is an important part of the cooking process for me: I like to analyze what's on offer and think of how to throw things together to make a palatable meal.
Those amazing looking M&S meals have done all the "hard" work; coming up with it's own scrumptious ideas and presenting me with drool-worthy creations, ready to pop into the oven/microwave. Not to impugn M&S, but the more elaborate the meals, the less scope I had for my own creativity. I'm no Heston Blumenthal, but I like to have a good think about what I want to make.
So this week's recipe will come as no surprise to you: My sausage, sweet potato & leek bake was courtesy of the recent special deals from my local Lidl and Morrisons.
What I love most about this dish is how many vegetables I managed to squeeze into it! I used Weight Watchers sausages that were on special offer, so it was a perfectly guilt-free meal, with no compromise on the taste!
Here's what I did: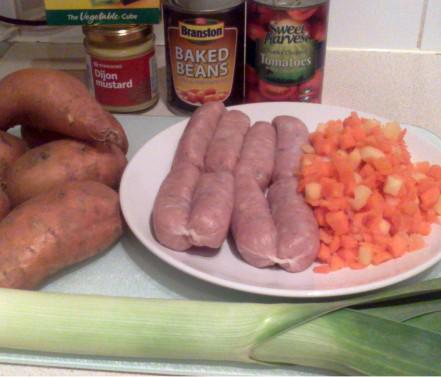 Ingredients (Serves 4):
8 x sausages of your choice, cut into thirds
6 x sweet potatoes, peeled and cut into bite-sized chunks
1 x leek, diced
1 x 500g pack of diced carrot & swede
1 x tin chopped tomatoes
1 x veg stock cube, dissolved in 300ml boiled water
1 x tbsp dijon mustard
1 x tin baked beans in tomato sauce
50g grated mature cheese (optional)
First, I fried the sausages and leek in a little olive oil, for 5 minutes. I then put my sweet potatoes on to boil (for 15 mins), and preheat the oven to 200 degrees.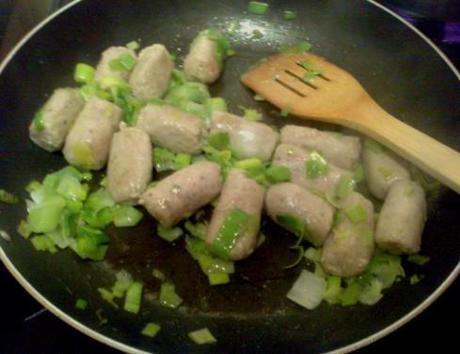 To my sausages, I stirred in the chopped tomatoes, vegetable stock and dijon mustard. After seasoning generously with salt & pepper, I let it simmer for a further 10 minutes.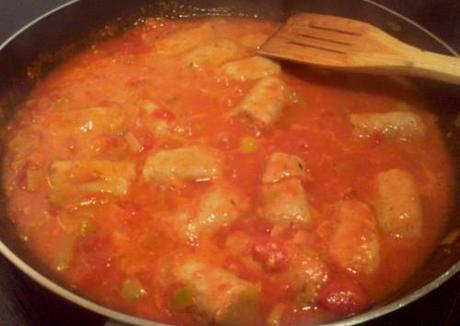 I added the sausages to my (drained) pot of sweet potatoes, chucked in the baked beans and gently mixed it all up, before transferring to an baking dish. I sprinkled with cheese and popped into the oven for a further 10 minutes (or until the cheese is golden and the filling is bubbling)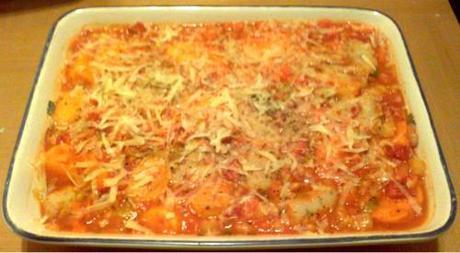 If you're wanting a ridiculously tasty, cheap, nutritious meal (that contains no less than SIX different vegetables in it), you certainly can't go wrong with this beauty…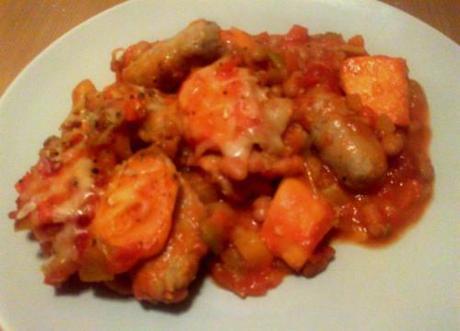 You could use different, fancier sausages in this, or opt for "normal" potatoes instead of sweet potatoes. Perhaps you'd prefer spring onion instead of leek? Or how about throwing in a tin of sweetcorn instead of beans? The possibilities are endless.
What's more, it froze really well! Perfect for a wee lunch to take into work and reheat in the micro.
Give it a go and let me know how you get on. I'm positive you'll like it!
Enjoy

x