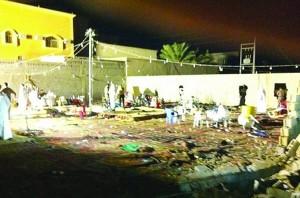 Saudi wedding accident kills 25
At least 25 people were killed and 30 others wounded due to the fire sparked by celebratory gunfire at a wedding in Saudi Arabia on Tuesday night.
According to reports, the bullets hit electric decorations which caused short-circuit, erupting blaze inside a courtyard that contain only women and small children.
An eastern province official Abdullah Khashman told Reuters that the power line touched the electrified metal door, causing the electrocution of most of the victims.
"At the wedding, the cable fell on a metal door and the 25 people who died were all electrocuted," he said.
The codes of ultra-conservative Muslim Kingdom require the segregation of genders in most public events including marriages.
The dead bodies and survivors were shifted to the Aramco and Central Abqaiq hospitals. Some injured are reported in critical condition and casualty toll is likely to climb.
Last month Saudi Arabia had banned the shooting of firearms at weddings.
Meanwhile, Provincial governor Prince Mohammed bin Fahd bin Abdul Aziz has ordered the authorities to investigate the unpleasant incident.